Manufacturing

Marketing Partner
---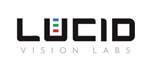 Lucid Vision Labs
We started this company with a shared vision - to build innovative cameras and components that help customers solve their unique design challenges today in order to succeed in their vision tomorrow. For digital imaging technology to keep up with current and emerging applications, it must be fluid, it must be inspired. We innovate dynamically to create products that meet the demands of machine vision for Industry 4.0. It is an exciting time to be part of a new era of industrial production where machine vision will play a central role in smart manufacturing.
---
Mailing Address:
130-13200 Delf Place
Richmond, BC V6V 2A2
Canada
Tel: 833-465-8243
Fax:
Email: sales@thinklucid.com
Website: https://thinklucid.com/
Company Category: Factory Automation
Geographic Region: Canada - West
Company Sector: Manufacturing
Keywords: cameras, machine vision, lens, inspection, imaging
Partner Status: Marketing Partner
---
Products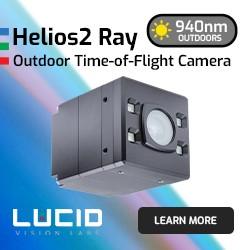 Helios2+ is an advanced version of the Helios2 ToF camera offering two new on-camera depth processing modes: High Dynamic Range Mode (HDR) and High-Speed Mode. The HDR Mode combines multiple exposures in the phase domain to provide accurate depth information in high contrast, complex scenes, containing both high and low reflectivity objects. The High-Speed Mode enables depth perception using a single-phase measurement, allowing for faster acquisition speed and higher frame rates compatible with moving object perception.
---
Articles
Our newest hands-on guidebook describes how you can optimize the benefits of Time of Flight by considering various factors such as the environment of the application and the target object properties in the scene.
---
---
---