Software

Marketing Partner
---

Matrox Imaging
Matrox® Imaging (now part of Zebra Technologies Corporation) is an industry-leading developer and trusted supplier to top OEMs and integrators, providing innovative yet cost-effective hardware and software products used in machine vision applications. The components consist of 3D sensors, smart cameras, vision controllers, I/O cards, and frame grabbers, all designed to provide optimum price-performance within a common software environment. Our software, systems, components, and services are tailored for industries including automotive manufacturing, packaging, food and beverage production, semiconductor manufacturing, medical imaging, electronics and flat panel display manufacturing, transportation, pharmaceutical production, medical device manufacturing, surveillance, and logistics. Customers stay with Matrox Imaging over multiple product generations because of our commitment to developing cutting-edge technology, providing comprehensive technical consulting and integration services, and offering only the highest manufacturing standards.
---
Mailing Address:
1055 St. Regis Boulevard
Dorval, Quebec H9P 2T4
Canada
Tel: 5148226000
Fax:
Email: Imaging.info@matrox.com
Website: https://www.matrox.com/en/imaging
Company Category: Factory Automation
Geographic Region: Canada - East
Company Sector: Software
Keywords: Imaging Machine Vision Deep Learning 3D sensor
Partner Status: Marketing Partner
---
Products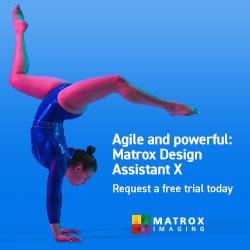 Agile and powerful Matrox Design Assistant® X takes the gymnastics out of vision application development. The flowchart-based software removes the need for coding; it's equally adept with simple application development or solving complex vision projects. Get a leg up with traditional vision tools to inspect, locate, measure, and read in images and 3D scans, plus deep learning tools
---
Articles
The vision system performs three key tasks: scanning in 3D the raw white vessels; analyzing the 3D scans to establish the vessels' size, shape, position; and communicating the results to the cobot so it can accurately reach the teacups as they move along the production line.
Prior to the upgrade the process involved manual removal and depositing of bread packages, which was potentially error prone and certainly not as efficient. The team at KINE knew that machine vision was the only possible solution for this type of system.
Matrox AltiZ high-fidelity 3D profile sensor powers TUNASCAN vision system, sorting up to 20 tons of tuna per hour with accuracy rates approaching 100%
---
White Papers
This Company does not currently have any White Papers
---
---