Software

Marketing Partner
---

Real-Time Systems
We are the experts in virtualization technology you can trust for consolidating deterministic real-time operating systems (RTOS) with other, less critical applications on a single hardware platform. Our bare metal hypervisor provides a privileged mode that allows operating systems to run in real-time, thereby avoiding any overhead from virtualization. Native real-time capability stays at 100%.
---
Mailing Address:
6262 Ferris Square
San Diego, CA 92121
United States of America
Tel: 1 425-802-0240
Fax:
Email: info@real-time-systems.com
Website: https://www.real-time-systems.com/
Company Category: Factory Automation
Geographic Region: USA - South West
Company Sector: Software
Keywords: RTOS, hypervisor, vr, ar, critical applications, iiot, Linux
Partner Status: Marketing Partner
---
Products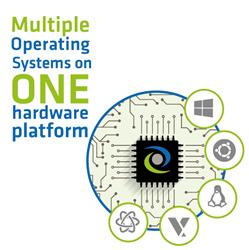 The RTS Hypervisor enables work-load consolidation of both real-time and non-real-time operating systems on a single x86 based platform. Unlike traditional virtualization, we partition and allocate the hardware for each work-load and provide a "privileged" mode for real-time operating systems that guarantee zero impact to determinism while adding zero jitter. This is instrumental for work-loads such as robotic controllers managing motion control where minimum jitter is required. And, our hypervisor is designed for easy setup and configuration for any work-load consolidation scenario. This equates to deterministic real-time applications taking advantage of all the benefits of virtualization immediately, without costly implementation projects.
---
Articles
Communications are much faster since you are no longer communicating across cables. Instead, communication happens through a low-latency shared memory space with deterministic time synchronization of operations.
---
White Papers
RTS HYPERVISOR - TWO OPERATING SYSTEMS ON ONE DEVICE
In addition to their real-time operating system, many machines also need a general purpose operating system to perform tasks such as aggregating data and sending it to the cloud, or to run business intelligence analytics or computationally intensive HMI applications. Traditionally, this has required the use of two separate pieces of hardware. With a bare-metal hypervisor, it is now possible to implement both systems on a single industrial PC without any compromise in performance.
REAL-TIME SYSTEMS AND INTEL TAKE INDUSTRIAL EMBEDDED SYSTEMS TO THE NEXT LEVEL
The Industrial IoT (IIoT) has the potential to bring increased optimization, automation, and insight to industrial facilities. But frequently, proprietary, incompatible equipment and systems—combined with the need to meet complex, time-based, deterministic requirements—make realizing this potential challenging. Real-Time Systems (RTS) software running on robust, high-performance Intel® architecture enables the creation of intelligent embedded applications for IIoT, enabling benefits from holistic visibility into operations to centralized equipment management and maintenance.
---
Press Releases
TenAsys and Real-Time Systems team up to greatly improve secure system consolidation and determinism
---