Marketing Partner
---

TUV Rheinland of North America
TUV Rheinland is a global provider of safety testing and certification services for Industrial Machinery manufactures and suppliers. We offer programs designed to assist companies achieve industrial machinery certification/labelling for a number of standards and regulations including CE Marking, Machinery Directive 2006/42/EC, ANSI, NFPA, UL, CSA standards and field evaluation/special inspection services. Our Robot Integrator Program is the first of its kind in the industry, and certifies the robot integrator's knowledge of robotics standards while allowing manufacturers to apply a serialized TUV Rheinland Mark to all of their certified products.
---
Mailing Address:
295 Foster Street Suite 100
Littleton, MA 01460
United States of America
Tel: (888) 743-4652
Fax:
Email: info@us.tuv.com
Website: https://www.tuv.com/usa/en/
Company Category: Industrial Robotics
Geographic Region: USA - North East
Company Sector:
Keywords: robotics, cobots, automation, testing, inspection
Partner Status: Marketing Partner
---
Products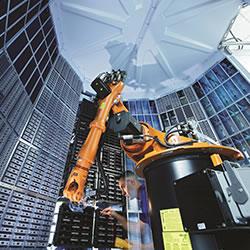 The industry's first comprehensive Robot Integrator Program saves robot integrators significant time and cost investments by allowing them to mark each cell compliant with ANSI/RIA R15.06 with the TUV Rheinland Mark. As opposed to a traditional certification or an on-site field labeling, TÜV Rheinland's Robot Integrator Program certifies the knowledge and skill-set of robot integrators in addition to testing robotic cells and processes against ANSI/RIA R15.06. This reduces the need for frequent onsite or off site testing and allows manufacturers to apply a single TÜV Rheinland label to multiple cells. The Robot Integrator Program individually assesses a robot integrator's understanding of the ANSI/RIA R15.06 standard along with the ability to consistently produce compliant robot cells. Following the requirements and procedures of the new program will enable robot integrators to produce individually compliant robotic cells under one serialized TÜV Rheinland Mark, which meets the national electric code and allows acceptance by Authorities Having Jurisdiction (AHJ) and end users.
---
Articles
Cobots are safer than ever, but care must still be taken during implementation. These 4 steps will help.
Booth #9530 - We will be using a cobot from Universal Robots to demonstrate safety evaluation and testing for a robot cell. We will also touch on the technical specifications for important robotics standards.
Start-ups must consider regulatory regulations from the start of design, which rarely happens. A wonderful product doesn't sell very well if many companies will not purchase because they to not meet applicable safety regulations.
---
White Papers
PERSONAL CARE ROBOTS - UNDERSTANDING THE REQUIRED SAFETY STANDARDS
Robots are nothing new on the factory floor, but personal care robots are an entirely different type of robot, taking their place alongside humans in their daily activities. While industrial robot standards consider the end user to be a trained person, personal care robots can be used around anyone. The environment that these robots can be used in is also much less predictable and the tasks of a personal care robot are not as well defined and repetitive like in the industrial world. As a consequence, the standards for ensuring they do their work safely are different than those for industrial robots, as everyone from a baby to the elderly can now be at risk. In this whitepaper, we'll describe those standards and what manufacturers and businesses need to be aware if they plan to enter this new, rapidly growing market.
---
---