Manufacturing

Marketing Partner
---

Universal Robots USA
Universal Robots is the market leader in collaborative robots. Since introducing the world's first commercially viable cobot in 2008, UR has developed a product portfolio including the UR3, UR5, UR10, and UR16, reflecting each cobot's payload in kg. Each model is supported by a host of plug-&-play end effectors, software, kits and accessories in the UR+ certification program, allowing for flexible redeployment of one robot into several diverse applications. Universal Robots is automating every manufacturing industry thanks to its quick setup and intuitive programming that allows frontline workers to become cobot operators and programmers. Headquartered in Odense, Denmark, UR operates out of US offices in Ann Arbor, MI, Long Island, NY, Dallas, TX, and Irvine, CA.
---
Mailing Address:
5430 Data Court, Suite 300
Ann Arbor, MI 48108
United States of America
Tel: 1-844-GO-COBOTS
Fax:
Email: ur.na@universal-robots.com
Website: http://www.universal-robots.com
Company Category: Industrial Robotics
Geographic Region: USA - North East
Company Sector: Manufacturing
Keywords: robotic arms, lightweight, flexible, userfriendly
Partner Status: Marketing Partner
---
Products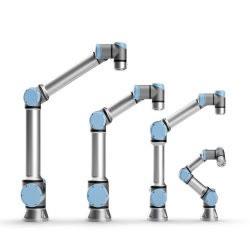 Collaborative robots from Universal Robots are bringing flexible, quick-to-deploy automation to manufacturers of all sizes. With payloads ranging from 3kg to 16kg, UR's cobots can handle nearly any dull, dirty dangerous task, from assembly to painting; palletizing to screw-driving; injection molding to welding. This family of four robot arms can help you improve productivity to compete in a global market. Learn more at www.universal-robots.com.
---
---
---
---