Manufacturing

Marketing Partner
---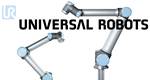 Universal Robots USA
Universal Robots was co-founded in 2005 by the company's CTO, Esben Østergaard, who wanted to make robot technology accessible to all by developing small, user-friendly, reasonably priced, flexible industrial robots that are safe to work with. Since the first robot was launched in 2008, the company has experienced considerable growth with the user-friendly robots now sold in more than 50 countries worldwide. The company, which is a part of Teradyne Inc., is headquartered in Odense, Denmark, and has subsidiaries and regional offices in the USA, Spain, Germany, Italy, Czech Republic, China, Singapore, India, Japan, Taiwan and South Korea. For more information, please visit www.universal-robots.com
---
Mailing Address:
11 Technology Drive
East Setauket, NY 11733
United States of America
Tel: 631-610-9664
Fax:
Email: sales@universal-robots.com
Website: http://www.universal-robots.com
Company Category: Industrial Robotics
Geographic Region: USA - North East
Company Sector: Manufacturing
Keywords: robotic arms, lightweight, flexible, userfriendly
Partner Status: Marketing Partner
---
Products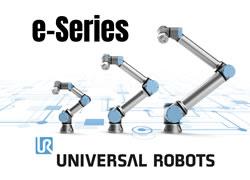 With the new e-Series cobot line, Universal Robots raises the bar for cobots, adding unique new features while significantly strengthening the four core principles defining collaborative robots: fast set-up, easy programming, flexible deployment, and safe operation. With a new built-in, tool-centric Force/Torque sensor the e-Series is ready to take on applications requiring force control right out of the box. A repeatability of 30 micron means the new cobots are suitable for very precise finishing, assembly and electronics tasks. A re-designed user interface decreases cognitive load and expedites program development, while a new externally accessible, 500Hz system bus enables more complex motion control algorithms or profiles.
---
---
White Papers
THE AUTOMATION TRAIN IS LEAVING THE STATION
Are your competitors already on board the automation train? Don't let them leave you in the dust. In this ebook, we'll help you identify and address the concerns of three key stakeholder groups:
---
---