Education / Training

Marketing Partner
---

University of Cincinnati Online
At the University of Cincinnati Online, our goal is to put you into a position to be a leader within the robotics and autonomous systems industry by providing this online graduate program in robotics and intelligent autonomous systems.
---
Mailing Address:

,
United States of America
Tel:
Fax:
Website: https://ad.doubleclick.net/ddm/trackclk/N504001.2560302TRIMAXDIRECT/B27461097.333087418;dc_trk_aid=524782496;dc_trk_cid=132660422;dc_lat=;dc_rdid=;tag_for_child_directed_treatment=;tfua=;ltd=
Company Category: Industrial Robotics
Geographic Region: USA - North East
Company Sector: Education / Training
Keywords: robotics, training, degree, education, engineering
Partner Status: Marketing Partner
---
Products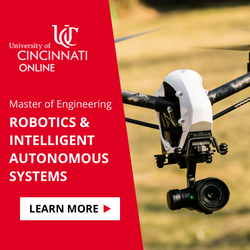 The online MEng in Robotics & Intelligent Autonomous Systems program from the University of Cincinnati provides specialized training in several disciplines, including computer science, electrical engineering, mechanical engineering, systems engineering, and project management. This industry-focused degree combines technical mastery with professional skills. Students are exposed to a broad set of topics to innovate and envision new systems while developing skills needed to build the future's reliable, safe, secure, and trusted systems.
---
Articles
For engineers with a traditional background in mechanical, electrical or computer engineering, specializing in IAS can accelerate their career progression and potentially make them more money.
---
White Papers
This Company does not currently have any White Papers
---
Press Releases
This Company does not currently have any Press Releases
---