Manufacturing

Marketing Partner
---
US Digital
US Digital's breadth of quality motion control products offers a range of sizes and CPRs, delivering the position accuracy you demand. With over 1 million off-the-shelf configurations, including custom designs and manufacturing, we put ultimate precision into your application. US Digital has delivered quality in motion since 1980. Located in Vancouver, WA, the vertically integrated facility and the stellar service team offer shorter lead times, with same-day fulfillment on most orders.
---
Mailing Address:
1400 NE 136th Avenue
Vancouver, WA 98684
United States of America
Tel: 360-260-2468
Fax: 360-260-2469
Email: sales@usdigital.com
Website: http://www.usdigital.com
Company Category: Industrial Robotics
Geographic Region: USA - North West
Company Sector: Manufacturing
Keywords: encoders optical sensors absolute motion control
Partner Status: Marketing Partner
---
Products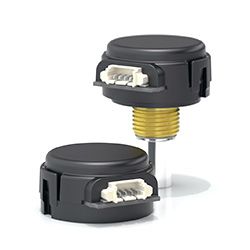 High resolution. Limited space. Not a problem for our latest miniature encoders that provides precise feedback and is easy to install within smaller-sized applications. Now available in 400 and 500 CPRs. Coming in at about the size of a nickel, we've added our proprietary Opto-ASIC sensor technology and improved quadrature for even greater motion control. Product Features: 10 resolutions up to 360 CPR, plus new 400 and 500 CPR resolution; 288 configurations available, including single and differential output; Compact form factor • 0.866 inch (in) / 22.00 millimeter (mm) package outside diameter • 0.446 in / 11.33 mm package height • Fits NEMA 8, 11, 14 and 17 motors; Simple and efficient assembly process • Four-piece construction • Push-on hub disk design, patent pending; 100 kilohertz frequency response; Shafted version up to 0.25 in / 6.25 mm diameter.
---
Articles
This Company does not currently have any Articles
---
White Papers
ENCODER BASICS FOR MOTION CONTROL ENGINEERS
Selecting the right encoder for a unique application can be a daunting task for the design engineer. This whitepaper covers commonly asked questions when considering encoders for motion control applications. From basics such as mechanical configuration and absolute versus incremental to the differences in accuracy and resolution, "Encoder Basics for Motion Control Engineers" will shed some light on the encoder selection process.
HOW THE T7 NETWORKED ABSOLUTE INCLINOMETER DRIVES DOWN THE COST OF SOLAR ENERGY IN CONCENTRATED SOLAR POWER SYSTEMS
Concentrated solar power (CSP) and concentrated photovoltaic (CPV) methodologies generate electricity by focusing a large amount of sunlight onto a much smaller area. To maximize efficiency, the sunlight needs to be accurately focused. Being off by even a single degree could result in a significant drop in efficiency, and the biggest impact to the cost of delivering solar energy is efficiency. As with most systems, the accuracy is limited by the accuracy of the sensors used in that system. There are a number of different types of sensors that can be used in these systems. This paper discusses why an absolute inclinometer is the most effective sensor solution and why the US Digital T7 is superior to other inclinometers available today.
---
---