XIMEA presented new models from high speed line of PCI Express based cameras earlier this year and now they are available to order.
The well-known line called xiB already offers 4K and 5K models with 12 and 20 Mpix resolution and fast speed. Now new CMV50000 sensors from CMOSIS (AMS) are included in this camera family. The initial low stock is ready for orders with higher stock volume planned towards the end of the 2017 and mass production beginning of 2018.

The latest model, called CB500, is equipped with high grade 35mm, full frame, global shutter CMOS sensor with 7920 x 6004 pixels resolution and ability to provide 8, 10, 12 or 14-bit crystal clear images. With the help of PCI Express, referred to also as PCIe, this 48 Mpix sensor is able to reach the remarkable speed of over 30 Fps at full resolution.
The camera's data and control interface is fully compliant with PCI Express External Cabling Specifications, which allows 20 Gbit/s and real data throughput of 1550 MB/s. This additionally means distance reach of up to 300m using Fiber optics and streaming of data directly to PC memory without the need of expensive frame grabbers or special, complicated software.
The camera package itself is remarkably compact with 60 x 60 x 38 mm and 175g. Its power consumption, reduced by design and components, can be as low as 9 Watt. The further enhancement comes from integrated active lens interface compatible with Canon EF-mount lenses which allows remote control of aperture, focus and image stabilization.
Applications examples include: Flat panel inspection, printed circuit board (PCB) examination, persistent stadium and border security, wide area surveillance, 360 panorama, cinematography, instant replays, Virtual and Augmented reality (VR, AR), Sports imaging and broadcasting, motion capture and aerial or city mapping.
All details can be found here: https://www.ximea.com/en/products-news/pci-express-camera-cmv50000
About XIMEA
Drawing on two decades of experience in the industry, XIMEA offers of state-of-the-art digital cameras with USB 3.1, USB 3.0, PCI Express and FireWire interface as well as X-RAY, Hyperspectral and Thunderbolt™ technology enabled cameras.
For more than 20 years XIMEA has developed, manufactured and sold standard and OEM cameras for machine vision applications in motion control, assembly, robotics, industrial inspection and security, as well as scientific grade cameras for life science and microscopy.
We are proud to offer extremely robust and stable cameras that offer the highest speeds and lowest latencies, for example our USB3 Vision camera line. Learn more about XIMEA at http://www.ximea.com
Featured Product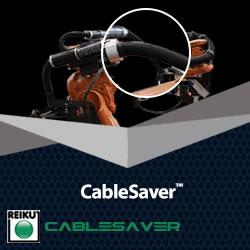 REIKU's Cable Saver™ Solution eliminates downtime, loss of revenue, expensive cable and hose replacement costs, maintenance labour costs. It's available in three sizes 36, 52 and 70 mm. All of the robots cables and hoses are protected when routed through the Cable Saver™ corrugated tubing. The Cable Saver™ uses a spring retraction system housed inside the Energy Tube™ to keep this service loop out of harms way in safe location at the rear of the Robot when not required. The Cable Saver™ is a COMPLETE solution for any make or model of robot. It installs quickly-on either side of the robot and has been tested to resist over 15 million repetitive cycles.