Installing automated linear transfer tool tray systems in your plant can help eliminate the barriers to high quality production of assembled parts
By​ Benedict Talan​,​​ ​President​,​ LazerArc

In the past, high precision and repeatability of product production has been difficult to achieve on the plant floor. But today, automation is removing some of the barriers of the production high-quality product that can be found with manual processes.
Before you start adding automation to your plant floor you should sit down with a solution provider to explain your entire production process. Then, the entire team should decide where automation efficiency could be easily reached first.
Linear tool tray transfer systems are often looked at a viable option to replace rotary index tables that have had widespread adoption in the past.
Other advantages of a linear tool tray transfer systems for any manufacturing plant is the similarity to how 7th axis equipment functions, but the part and fixture are transferred opposed to the robot. Linear tool tray transfer systems can also be integrated with a robot motor and effectively communicate with a robot.
The advantages of tool tray transfer systems for plant design engineers and special machine builders include direct drive gear reducers to gear rack implements with higher accuracy and better performance with less components. In addition, a robust tubular steel construction is designed for easy maintenance and accessibility, along with oversized linear bearings guideways enables it to handle more mass as the integrated internal cable carrier reduce floor space consumption.
But not all linear tool tray transfer systems are manufactured with the accuracy and precision necessary to meet high quality standards necessary for the assembled part. Properly manufactured linear transfer systems should combine excellent accuracy using the highest precision guide rails, rack and pinion system and closed loop motor control system with high index speed capability and the versatility to meet any automation challenge and quality standards.
Key benefits of tool tray transfer systems for your plant floor can include:
· Standard accuracy - DIN 6 on gear rack +/-0.0003″/ft.
· Rack is hardened and ground - S.F. of rack 4.58:1
· Low backlash Gear Reducer
· Total axis load moving over 100,000 lbs.
(slide frame and fixture)
· Transfer unit is fabricated and machined welded
steel construction
· Transfer carriage manufactured to mount customer tooling tray and fixtures
· Localized pads machined for mounting of tooling tray
· Faster transfer times
· Extremely high accuracy with either AC motor with absolute encoder or servo motor control.
Some of the advantages for users of tool tray transfer systems in a plant include:
· High precision linear rails/guideways with blocks
· Cable management tray (mounted internally)
· Hard stops on each end of transfer for over travel
· Special coatings to reduce friction and eliminate
external lubing
Before purchasing a linear tool tray transfer system for your plant, you should choose a supplier that has a long history of designing, building, and installing the equipment. You should also be ready to provide specification details, which should include current assembly line operations, size/ shape/weight of the parts to be moved, time for assembly, and plant floor dimensions where you plan on adding the system to determine the best solution for your automation needs.
There are also some other key items to consider before choosing your vendor. Here are some questions you can ask your vendor:
· Are variable frequency drives (VFD) mounted in the panel or controlled directly through a programmable logic controller (PLC)? (VFDs are essential, as they will determine the motors efficiency and performance in an application.)
· Are the motors on the tool tray transfers--are they either AC motors or Asynchronous motors?
· Are they equipped with servomotors or robot motors that act as a 7th axis so the equipment can communicate with a robot?
· Are high quality sensors and switches used?
· Can these units be integrated with welding robots, tooling fixtures, and other apparatus that are controlled with PLC logic?
About LazerArc:
LazerArc is a division of Motion Index Drives, Inc. specializing in custom engineered indexing solutions. Motion Index Drives has been engineering precision indexing systems since 1970. LazerArc Tool Tray Transfer Systems are highly accurate, provide long service lives and are engineered for low maintenance. The unique design allows for expansion in length, enabling you to add tools and fixtures at future dates while keeping integration costs down. The tools are easily interchangeable and the positioning can be programmed to interface with robots. Design and build time is typically 18-20 weeks as each system is customized for the customers specific application.
Featured Product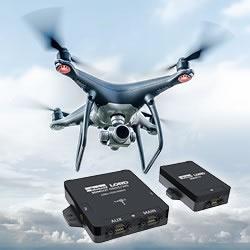 The new complete inertial navigation solution comes with GNSS/INS 3DMGQ7 sensor, 3DMRTK correction modem and real time SensorCloud RTK correction network. The sensor comes with Dual antenna GNSS, tactical grade IMU with centimeter-level accuracy with RTK. Low profile and light weight at 78 grams, this sensor is The sensor is optimized for size and weight in Unmanned Ground Vehicles, mobile robots and autonomous vehicles. The network interface 3DMRTK modem is seamlessly integrated into the 3DMGQ7 sensor supports industry-standard NMEA and RTCM 3.1 protocols. The network RTK support comes with cellular data plan. The SensorCloud RTK is a cloud-based RTK correction system with private encrypted data stream. Check out our G Series and C Series OEM products.