Torc Robotics, a Virginia-based autonomous vehicle technology company, will partner with Americas oldest traffic safety organization on public roads to develop safety criteria for self-driving cars.
LAS VEGAS, NV - Torc Robotics and AAA Northern California Nevada & Utah (NCNU) today announced their partnership to develop safety criteria for self-driving cars through a testing program on public streets.

Using Torcs self-driving system, called Asimov, the partners will collect data from various urban safety cases they observe while driving. In addition to data collected by Torc during previous testing, the partners will collect data in Las Vegas this year and in additional cities in the near future. The experience and information gathered will help inform safety for the developing industry.
"Self-driving vehicles have the potential to dramatically reduce traffic fatalities on our roadways, most of which are caused by human error," said Tim Condon, President & CEO of AAA Northern California, Nevada & Utah. "By creating a blueprint for automakers to follow, we hope to build public trust in technology that could save and enrich millions of lives."
"Autonomous technology will only bring a transportation revolution once it is safe enough and widely adopted," said Torc Robotics CEO Michael Fleming. "We continue to refine our proven technology and are now working on helping to integrate self-driving cars into society.
The new program is part of AAA NCNUs larger effort to study and test autonomous vehicles. In October, it announced a partnership with GoMentum Station, the largest testing facility for self-driving cars in the U.S. AAA NCNU also partnered with the City of Las Vegas to launch the nations first public self-driving shuttle in downtown Las Vegas.
Torcs Asimov system is the product of 10 years of autonomous system experience following its third- place win in the historic 2007 DARPA Urban Challenge. The Asimov system has been tested on public roads in more than 20 states, including a cross-country drive in July 2017. Torc recently released a list of Asimov capabilities and is testing consumer reactions this week with private demos at CES 2018.
"As one of the most experienced self-driving technology companies, we are excited to be pioneering self- driving safety standards for the 21st century with the countrys oldest auto safety organization," Fleming said. "We believe that a partnership model is the best way to commercialize this technology."
He emphasized that exposure to the technology with a trusted brand and frequent interaction are key to increasing confidence. According to a recent AAA survey, 75 percent of Americans confess to being skeptical of riding in and sharing the road with self-driving cars.
In addition to expanding its autonomous vehicle research in 2017, AAA NCNU launched the Bay Areas first one-way car share service, GIG Car Share, in Oakland and Berkeley.
"From launching the publics first self-driving shuttle, to launching a one-way car share in the Bay Area, were acknowledging that transportation habits are changing," Condon said. "AAA is over a hundred years old, and we remain committed to continuously innovating in the area of traffic safety."
Press Avail at CES 2018
Developing Safety Criteria for Self-Driving Cars Thursday, January 11, 9:00-10:10 a.m.
LVCC, North Plaza - NP-16
About Torc Robotics
Torc Robotics, headquartered in Blacksburg, Virginia, provides end-to-end self-driving solutions across multiple industries, including automotive, mining, and defense. Founded in 2005, Torc has integrated its components and systems on ground vehicles ranging from consumer SUVs to 300-ton mining trucks—in safety-critical environments. Torc first gained notice when it developed the self-driving software stack for Virginia Tech in the 2007 DARPA Urban Challenge. As one of three winners of the DARPA Urban Challenge, Torc has commercialized this technology through partnerships with original equipment manufacturers (OEMs) and their Tier 1 suppliers.
About AAA NCNU
AAA Northern California, Nevada & Utah offers a wide array of automotive, travel, insurance, DMV, financial services and discounts to more than 5.7 million members.
Featured Product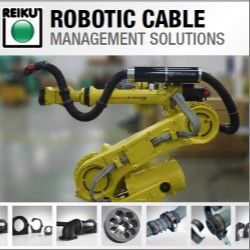 REIKU's Cable Saver™ Solution eliminates downtime, loss of revenue, expensive cable and hose replacement costs, maintenance labor costs. It's available in three sizes 36, 52 and 70 mm. All of the robots cables and hoses are protected when routed through the Cable Saver™ corrugated tubing.The Cable Saver™ uses a spring retraction system housed inside the Energy Tube™ to keep this service loop out of harms way in safe location at the rear of the Robot when not required. The Cable Saver™ is a COMPLETE solution for any make or model of robot. It installs quickly-on either side of the robot and has been tested to resist over 15 million repetitive cycles. REIKU is committed to providing the most modular, effective options for ensuring your robotic components operate without downtime due to cable management. www.CableSaver.com