Custom Machine and Tool Co., Inc. Solves Delivery Lead Time of Pulley Stock to SCARA Manufacturer
Custom Machine and Tool Co., Inc. came to the rescue of a manufacturer of Selective Compliance Articulated Robot Arms (SCARA), who was under pressure because of short lead times, to deliver product to its customer in the semiconductor industry. Current sources proved to be unable to deliver critical pulley stock within the required time frame, making it difficult to meet customer demands. A reliable source of pulley stock, with a much faster turnaround, had to be found.

The SCARA manufacturer heard about Custom Machine and Tool Co., Inc.'s 72-hour delivery guarantee and entered into an agreement. Now, because of CMT's Pulley Stock Promise the manufacturer can satisfy their customers' needs, knowing that they have a source that will always meet their required lead times.
Featured Product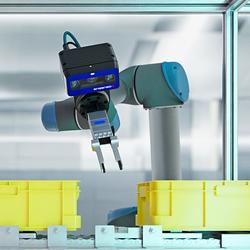 App Your Sensor®! What would smartphones be without apps? They would be mobile phones that can't do much more than make phone calls and sending SMS. Apps turn smartphones into intelligent assistants with any number of different tasks. Transferred into the world of image processing, this app-based approach transforms cameras and sensors into customised, smart vision sensors.