Leading national event in robotics and autonomous systems promoting hundreds of public events, including International Robotics Showcase finale in London on June 27 2019
London, United Kingdom, 16th April 2019---The 4th annual UK Robotics Week (#UKRW19) returns for a spectacular celebration of robotics and autonomous systems innovation in the last week of June, boosted by the award of a further three-year grant by the Engineering and Physical Sciences Research Council (EPSRC) to the core organisers - the EPSRC UK-RAS Network. Full details can be found at: https://www.ukras.org/robotics-week/.

This new award by EPSRC to the UK-RAS Network will fund its activities through to 2022, and will accelerate the Network's future growth - including strengthening industry collaboration both nationally and internationally and providing key support for the UK government's Industrial Strategy Challenge Fund (ISCF). It will enable the Network to continue to grow the RAS community and undertake new activities, such as the establishment of Industrial fellowship schemes, management of national RAS assets, as well as build on its current public engagement portfolio, with greater activities during the annual UK Robotics Week and STEM ambassador programmes.
A key pillar of the EPSRC UK-RAS Network's public engagement strategy is its popular annual UK Robotics Week, which returns this June for its 4th year and is now the leading national event in robotics and autonomous systems. The week-long celebration will highlight over 180 events across its nationwide programme, ranging from competitions and challenges, public lectures, open days, symposia, hackathons and workshops. Key activities for 2019 include the International Robotics Showcase (27th June 2019); a stand-out exhibit at the Great Exhibition Road Festival; an augmented reality-based School Robot Competition; the launch of a new White Paper on 'Technology, Ethics & AI', plus the prestigious international Surgical Robot and Manufacturing Robotics challenges.
Professor Lynn Gladden, EPSRC's Executive Chair, said: "The Robotics and Autonomous Systems (RAS) Network has played a key role in coordinating and linking academic centres, the EPSRC Robotics Hubs, and industrial partners to share knowledge and drive innovation. This additional funding for the RAS Network will allow them to build on this work and push the UK's capabilities further. The UK Robotics Week is a prime example of how those working in the field are demonstrating what the future will bring and encouraging the next generations of researchers and innovators."
The EPSRC UK-RAS Network was established in 2015 with the aim of bringing together academic centres of excellence, industry, government funding bodies and charities to strategically grow the UK-RAS research base - acting as a portal to interface with industry and deliver technological advances with the potential for translational uptake.
Commenting on the funding award ahead of UK Robotics Week, the founding EPSRC UK-RAS Network Chair and new Chair of the Strategic Advisory Board Professor Guang-Zhong Yang added: "Since its foundation, the EPSRC UK-RAS Network has established strategic leadership and cohesion on public engagement and outreach programmes by providing high-impact opportunities and maximising the visibility of RAS across the UK. With this timely new funding, we plan to build on these activities as well as establish new programmes that will secure the UK's leadership in robotics and autonomous systems innovation globally."
For more details about UK Robotics Week 2019, please visit https://www.ukras.org/robotics-week/ and follow @UKRobotics on Twitter.
----Ends----
Notes to editors
The UK Robotics Week initiative is jointly spearheaded by founding supporters, the Engineering and Physical Sciences Research Council (EPSRC), The Royal Academy of Engineering, the Institution of Engineering and Technology, the Institution of Mechanical Engineers and the UK-RAS Special Interest Group, and is being coordinated by the EPSRC UK-RAS Network.
About the EPSRC UK-RAS Network (http://www.uk-ras.org)
Since its foundation, the EPSRC UK Robotics and Autonomous Systems Network (UK-RAS Network) has helped transform the research landscape of Robotics and Autonomous Systems in the UK, bringing cohesion to the UK-RAS research base, enhancing capital facilities across the country, supporting education programmes and public engagement activities at all levels.
For further information please contact:
PRESS CONTACT: Nicky Denovan EvokedSet Email: nicky[@]evokedset[dot]com Mobile: +44 (0)7747 017654
Distributed on behalf of EvokedSet Ltd by NeonDrum news distribution service (https://www.neondrum.com)
Featured Product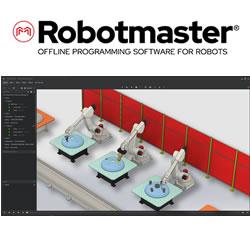 Robotmaster delivers unmatched, full-function off-line programming capability for robots - easy programming of precise robot motion control and quick generation of path trajectories of any size, with minimal programmer intervention. Our strong background in CAD/CAM (Computer Aided Manufacturing) software has enabled us to bring a revolutionary approach to programming industrial robots.