Universal Weldcom Interface (UWI), Yaskawa Motoman's new easy-to-use pendant application, enables full utilization of the advanced capabilities on select Miller® and Lincoln Electric® digital welding power supplies.
Dayton, OH — Universal Weldcom Interface (UWI), a new easy-to-use pendant application, enables full utilization of the advanced capabilities on select Miller® and Lincoln Electric® digital welding power supplies. UWI enables easy control of any weld process or parameter, including voltage, amperage and wire feed speed through a common user interface for either brand.

Highly functional, the UWI can filter weld modes based on process type, wire size, wire type and gas type. Up to 16 unique processes from the power source library can be defined for easy access within the interface, and up to 1,000 custom arc files with specific processes and parameters are available for use in motion programming.
Up to six weld process parameters in a weld sequence - such as Pre-Flow, Start, Main, Crater and Finish Condition - can easily be set. Standard functions - such as Arc-Retry, Arc Monitor Data Enable, Re-Start and Weld Line Shift - are conveniently utilized. A new Dual Pulse function allows alternating between MIG weld parameters and settings for aesthetically pleasing TIG-like cosmetics.
Weld settings on the UWI use terminology that matches the user's preferred power source. Standard ARCON commands are used, eliminating the need for complicated macro jobs. Programming with arc file interface or inline instructions is supported. Easy access to graphical help screens explains terminology and functions.
The Universal Weldcom Interface is fully compatible with arc welding performance tracking features native to the power source. Live weld status is presented on the IF Panel display or Graphic Arc Monitor. Weld data can be exported for use in PLCs and part quality serialization. Arc Monitor results from Miller Insight Centerpoint™ or Lincoln CheckPoint™ Production Monitoring can be used for alarms or reported to PLCs. Hardware communication for diagnostics is also monitored and logged.
UWI can be used on up to four AR-series arc welding robots with YRC1000 controller (YAS2.81.00-00 firmware or higher). It is compatible with the Miller Auto-Continuum™ 350 or 500, or the Lincoln Power Wave® with ArcLink™ XT. A simplified networking utility enables easy setup between the robots and the welders. Additional features and global power source compatibility are planned in the future.
About Yaskawa Motoman
Founded in 1989, the Motoman Robotics Division of Yaskawa America, Inc. is a leading robotics company in the Americas. With over 450,000 Motoman® robots installed globally, Yaskawa provides automation products and solutions for virtually every industry and robotic application; including arc welding, assembly, coating, dispensing, material handling, material cutting, material removal, packaging, palletizing and spot welding. For more information please visit our website at www.motoman.com or call 937.847.6200.
Featured Product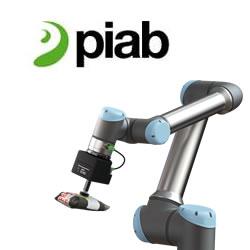 Piab's Kenos KCS gripper enables a collaborative robot to handle just about anything at any time. Combining Piab's proprietary air-driven COAX vacuum technology with an easily replaceable technical foam that molds itself around any surface or shape, the gripper can be used to safely grip, lift and handle any object. Standard interface (ISO) adapters enable the whole unit to be attached to any cobot type on the market with a body made in a lightweight 3D printed material. Approved by Universal Robots as a UR+ end effector.