New Scale Robotics hardware and software enable fast setup and control of up to THREE tools on one UR e-Series cobot
Victor, NY - July 18, 2019 - New Scale Robotics has announced the first multi-tool mounting system for the smallest collaborative robots. The new NSR-MTM-3-URe Multi-Tool Mount (NSR-MTM) System allows users to mount and control up to three grippers or other tools on one Universal Robots (UR) e-Series cobot.

The NSR-MTM System allows users to quickly set up and perform multiple processes with one robot. Benefits include:
• Higher throughput in small part handling and inspection tasks.
• Fewer large moves, for reduced cycle times without compromising safety.
• The ability to automate more processes with fewer robots.
The NSR-MTM System includes both hardware and software. With low mass and small size, the hardware is compatible with UR's smallest UR3e cobot. The integrated Freedrive button enables one-handed positioning to teach and set positions. The software enables fast setup and easy programming of up to three devices in one user interface on the UR teach pendant.
NSR Devices Software is a new URCaps plugin for UR e-Series robots. Users can quickly add multiple tools to the single user interface, build tool processes with a few clicks, and run complex automation or inline inspection programs with ease. Other smart features include dynamic adjustment of tool center of gravity depending on mass of object picked.
The MTM hardware mounts to the UR robot tool flange with four screws and one connector to the internal tool port. Up to three tools are mounted on the MTM faces using the standard ISO 9409-1-50-4-M6 interfaces and M8 round connector. The MTM mount uses power and RS485 signals from the robot's internal cables and slip rings. No external cables are required.
Applications include small part picking, movement, measurement, data logging, sorting and assembly. Used with the small and precise grippers from New Scale Robotics, the NSR-MTM System allows increased productivity from multiple tools while still fitting in the tightest spaces.
More Information
See the video of the MTM System in an inline inspection application: https://www.newscalerobotics.com/new-ure-gripper-and-multi-tool-mount-system-for-cobots/
Get complete specifications: https://www.newscalerobotics.com/products/nsr-mtm/
Availability
The NSR-MTM-3-URe Multi-Tool Mount System is available now from New Scale Robotics and from Universal Robots distributors.
About New Scale Robotics
New Scale Robotics (www.newscalerobotics.com) designs and manufactures "plug-and-play" collaborative automation tools that make manufacturing companies more competitive. Our precision smart gripper systems install in minutes using software applications that operate seamlessly with collaborative robot controllers. Our tools are the perfect fit for agile automation including small part movement, inspection and assembly.
New Scale Robotics is a division of New Scale Technologies, Inc.near Rochester, NY. We have more than 15 years of experience creating miniature embedded motion systems including numerous patents in micro motors and motion control systems. Our products feature unmatched miniaturization, micrometer-scale resolution, and fully-integrated microelectronics with intelligent firmware. Our customers benefit from high performance, superior ease of use, and fast system integration.
Featured Product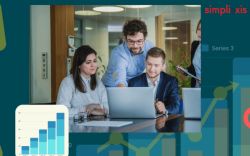 Challenges on the loading dock are characteristic of greater pressures from the rise of e-commerce. Loading and unloading freight from trailers, trucks and shipping containers are arduous, repetitive tasks plagued by high turnover. Even with regularly available staff, manually unloading freight and the constant lifting and twisting results in fatigue and inconsistent, declining productivity. Robotics capable of fully automating unloading tasks bring a new paradigm to the dock. High performance and flexibility push unloading from a labor-heavy, manual chore to an automated, refined process. High-performing DC workers can take more desirable positions, with relief from unpleasant work conditions. Management gets to replace uncertainty and staffing challenges with a reliable, automated process, with data to fuel continuous improvement.