ABB's high-efficiency robots and expertise in industrial automation will help Exeger scale up production of unique patented solar cell technology.
ABB today announced a new partnership with Sweden's Exeger Operations AB. The partnership will enable Exeger to enhance the production quality of their unique photovoltaic material in its Stockholm factory and develop automation solutions for Exeger's new, state-of-the-art, fully automated factory which will begin construction in the near future.

Exeger's material is unique on the market, with the patented photovoltaic technology enabling light-charging both outside in direct sunlight and in low or artificial light inside the home. Through integration in consumer electronics and smart home products, the user experience is greatly enhanced with substantial increase in battery life.
"ABB's unparalleled knowledge in automating factories and their portfolio of smart robotics solutions is a perfect fit for our ambitions to quickly scale up our solar cell manufacturing process. By fully automating production with ABB's high-efficiency robots, we can lower the energy payback time of every solar cell produced, thereby helping the people reduce their carbon footprint," said Exeger's CEO Giovanni Fili.
The technology partnership consists of three key projects.
First, ABB is supplying its robotics and automation technology to increase the level of automation in Exeger's existing factory in Stockholm. With best-in-class motion even at high speeds, robots including the IRB 1200 and IRB 910INV SCARA are designed to meet Exeger's need for fast and repeatable point-to-point accuracy in manufacturing the light-charging material onto different and complex surfaces.
Second, ABB has created a dedicated engineering team in Sweden to assist Exeger in creating specialized solutions that will be developed for a new, state-of-the-art fully automated factory that Exeger will begin building in Sweden in the near future.
Third, ABB will evaluate the potential for Exeger's solar cells to be incorporated into future ABB products, helping reduce the environmental impact of ABB and its customers worldwide. One example could involve utilizing Exeger's solar cell technology to power advanced sensors.
"With the ever-growing demand for clean energy solutions from our customers we are keen to support and enable companies with a clear agenda to drive innovation and help accelerate the world's transition towards clean energy," said Dennis Helfridsson, Head of ABB's Robotics and Discrete Automation Business and Country Manager for ABB in Sweden. "To help Exeger realize its long-term strategy of helping restore the carbon balance of the planet, ABB's automation technology will help Exeger's new factory process up to ten times the annual production capacity of its current factory. We are excited to be at the beginning of our journey with Exeger and look forward to the mutual benefits that our shared technologies and innovation will bring," said Dennis Helfridsson, Head of ABB's Robotics and Discrete Automation Business and Country Manager for ABB in Sweden.
About Exeger
Exeger is a deep tech company manufacturing a carbon positive material that converts light energy to electrical energy. It enhances any product in both natural and artificial light with an integrated power source. Exeger's vision is of a better world where any surface can be power generating through light. The company's goal is to change the perception of available energy by integrating self-power into everyday devices, the brighter the better. Effortless and endless energy will drive global change into a new age of innovation and sustainability. www.exeger.com
ABB (ABBN: SIX Swiss Ex) is a technology leader that is driving the digital transformation of industries. With a history of innovation spanning more than 130 years, ABB has four, customer-focused, globally leading businesses: Electrification, Industrial Automation, Motion, and Robotics & Discrete Automation, supported by the ABB Ability™ digital platform. ABB's Power Grids business will be divested to Hitachi in 2020. ABB operates in more than 100 countries with about 147,000 employees. www.abb.com
Featured Product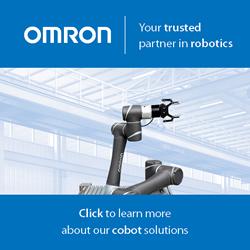 Humans and robots can now share tasks - and this new partnership is on the verge of revolutionizing the production line. Today's drivers like data-driven services, decreasing product lifetimes and the need for product differentiation are putting flexibility paramount, and no technology is better suited to meet these needs than the Omron TM Series Collaborative Robot. With force feedback, collision detection technology and an intuitive, hand-guided teaching mechanism, the TM Series cobot is designed to work in immediate proximity to a human worker and is easier than ever to train on new tasks.