New Solution Includes Mounting Bracket, Choice of Measuring Wheel, and Programmable Encoder Options
SAGLE, Idaho: Encoder Products Company (EPC) has introduced a new addition to their line of linear measurement solutions. With EPC's newest linear measurement solution, customers get a spring-loaded mounting bracket combined with a choice of measuring wheel. Then they select the encoder to meet their exact application requirements.

With up to 10 lbs of adjustable spring tension, this spring-loaded mounting bracket fits 2.5" shafted encoders with servo mounts, and 58 mm shafted encoders with clamping flanges. The bracket works with the following EPC encoders:
• Programmable incremental Model 25SP
• Model A58SE absolute encoder with either EtherCAT® or PROFINET® communication protocol
• Model A25SB absolute encoder with either CANopen® or SSI communication protocol
Measuring wheels are available in urethane, knurled aluminum, hard anodized aluminum, or rubber insert.
"This new linear measurement solution gives customers the flexibility of programmable options with their encoders. The Model 25SP, in conjunction with the USB Programming Module, allows them to program their encoder's electronics," explains electrical engineer and EPC Technical Applications Manager Sarah Walter. "For incremental feedback, users can choose from 32 waveforms, select from three different output types, and program any resolution from 1 - 65,536 CPR. If an application calls for absolute feedback, the Model A58SE offers either EtherCAT® or PROFINET® communication protocol, and the Model A25SB offers either CANopen® or SSI communication protocol, with resolution up to 16 bits for single turn or 43 bits for multi-turn."
The optional angle mounting bracket (pictured top right) simplifies installation of the linear measurement solution. Designed specifically for EPC products, this bracket allows quick and easy mounting and installation, eliminating the need to design, machine, or source a mounting solution.
About Encoder Products Company:
Encoder Products Company (EPC) is a leading designer and world-wide manufacturer of motion sensing devices. EPC began operations in 1969, producing a line of custom encoders from a small, home-based shop. Today, EPC operates out of a 100,000 square foot, vertically-integrated manufacturing facility in Sagle, Idaho, producing a complete line of incremental and absolute rotary encoders and accessories.
For more information visit http://encoder.com/
Featured Product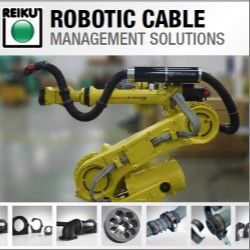 REIKU's Cable Saver™ Solution eliminates downtime, loss of revenue, expensive cable and hose replacement costs, maintenance labor costs. It's available in three sizes 36, 52 and 70 mm. All of the robots cables and hoses are protected when routed through the Cable Saver™ corrugated tubing.The Cable Saver™ uses a spring retraction system housed inside the Energy Tube™ to keep this service loop out of harms way in safe location at the rear of the Robot when not required. The Cable Saver™ is a COMPLETE solution for any make or model of robot. It installs quickly-on either side of the robot and has been tested to resist over 15 million repetitive cycles. REIKU is committed to providing the most modular, effective options for ensuring your robotic components operate without downtime due to cable management. www.CableSaver.com