Pre-engineered for delivery in just eight weeks
Waukesha, Wis. [July 1, 2020] ⎯ Now is a challenging time for companies to recover fast and get production back up to speed to stay competitive in the market. For machine shops facing capacity challenges, labor shortages and quality variability, Acieta introduces the new FastLOAD® DR2000 robotic cell. The cell is pre-engineered to meet the most common machine tooling needs so it's ready for delivery and installation in as soon as eight weeks.

"Companies using the FastLOAD DR2000 typically see a return on investment in 24 months or less because they increase capacity and can reduce the cost per part," said Mark Sumner, Vice President of Sales and Marketing at Acieta. "It's a low-risk option to invest in automation and address business challenges fast."
For continuous uptime, the FastLOAD DR2000 features a FANUC six-axis robot that can tend up to three machines simultaneously so an operator can load and unload parts while the robot is working. This allows companies to leverage existing machines that may be otherwise not in operation due to labor shortages.
Safety area scanners and an intuitive touchscreen interface will allow workers to operate efficiently and safely.
For more information about the FastLOAD DR2000, visit www.acieta.com/dr2000 or call 844-4-ACIETA.
About Acieta: A leader in the robotics business for over 37 years, Acieta provides a wide range of robotically automated solutions and services for the manufacturing industry. With locations in Waukesha, Wis., and Council Bluffs, Iowa, Acieta has integrated more than 5,000 automation systems for customers across the United States, Mexico and Canada. As part of its mission to be a true partner to its customer base, Acieta is committed to solving challenges facing all manufacturers, such as lowering costs, increasing productivity and addressing labor shortfalls. Learn more at www.acieta.com.
Acieta is a leading FANUC Authorized System Integrator and member of the RIA Certified Integrator group.
Featured Product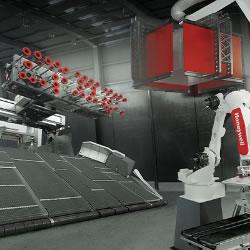 Honeywell Intelligrated is recognized by the Robotic Industries Association (RIA) as a Certified Robot Integrator, with more than a quarter-century of experience providing single-source robotic solutions for high-performance distribution and manufacturing operations. From system concepting, simulation, fabrication and integration to installation and commissioning, training and ongoing support, each solution is approached with a comprehensive lifecycle view to maximize the value of your system.