The Energy Drone & Robotics Coalition is bringing "unmanned" to a new level with the first major meeting opportunity of the year for thousands of UAV, robotics and data / AI industrial and energy leaders.
This July 14-16, the Energy Drone & Robotics Coalition global community will come together virtually for three days of live industry keynotes, asset owner panels and real-time moderated discussion groups on the most important industry topics. The virtual expo hall offers 1:1 meetings, energy company / team private meeting rooms, demos and focused use cases with hardware, software and service solution providers.

The all-new content for the Virtual Summer Summit was developed in conjunction with the industry Advisory Board to ensure we build on the foundation from the past four years of best practices, use cases and proven ROI with unmanned technology .
Breakout Session Streams include:
• Enterprise UAV Operations (including sessions on Industrial Drone Delivery & Unmanned Cargo and BVLOS)
• Energy Robotics & Automation
• Data / Analytics / AI
"We have partnered with next-gen digital platforms that go way beyond a series of webinars to actively connect the industrial / energy unmanned systems industry and give them access to interact on a global basis," said Sean Guerre, director of the Energy Drone & Robotics Coalition. "We see the ongoing need of connecting solution providers, reviewing innovative approaches and sharing sector knowledge as vital while the need for remote and unmanned operations accelerates."
This is the first of two summits being organized by the Energy Drone & Robotics Coalition this year. The second hybrid event, the postponed 4th annual Energy Drone & Robotics Summit, is taking place in Houston this November 10 - 11. "Hybrid" means that the event will take place both physically / in-person and simultaneously be held virtually / live streamed around the world to serve the community's needs for maximum participation and exchange of best practices, connections and technology updates.
Registration for the July 14 - 16 Energy Drone & Robotics Virtual Summer Summit is now open, available here.
Further details about the Energy Drone & Robotics Coalition's digital resources and virtual, live and hybrid events are available at edrcoalition.com.
Exhibits and sponsorship opportunities are available, as well as group plans. Reach out to Sean Guerre, seang@stonefortgroup.com to discuss details.
About Energy Drone & Robotics Coalition
The Energy Drone & Robotics Coalition (EDR Coalition or EDRC), powered by InnovateEnergy, is focused on innovating industrial & energy operations with dynamic UAV, robotics, data and autonomous solutions. EDRC is dedicated to launching, growing and scaling enterprise unmanned systems operations in industrial / energy / engineering companies worldwide by bringing the major rapidly growing segments within the UAV / AUV / robotics ecosystem together with the energy industrial complex asset owners and end users.
These are the only events and information resources exclusively focused on the business and technology of unmanned systems (aerial, ground / surface & subsea) in energy operations from the "stars to the sea floor." Learn more at www.edrcoalition.com.
About InnovateEnergy
From live events to digital resources with communities like Energy Drone & Robotics Coalition, InnovateEnergy is a single resource that delivers actionable content, executive insights, thought leadership, "how-to" and real-world use cases in multiple channels for energy digitization, technology and innovation leaders worldwide.
InnovateEnergy has a global audience of over 20,000 energy executives and digital innovation leaders, each involved with digitization efforts and technology integration from multiple industrial-focused enterprises, including Oil & Gas, Power / Utilities, Maritime, Wind / Solar, Chemical, Refining, Petrochemical, Energy Construction & Engineering and more.
Staying up-to-date on the latest digitization trends, best practices, news and solutions is a huge task as the areas for emerging technology in the energy industry rapidly evolve… but InnovateEnergy is here to make it easy. innovateenergynow.com
###
Featured Product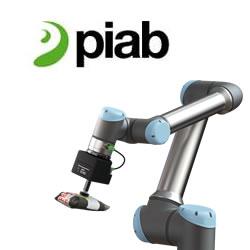 Piab's Kenos KCS gripper enables a collaborative robot to handle just about anything at any time. Combining Piab's proprietary air-driven COAX vacuum technology with an easily replaceable technical foam that molds itself around any surface or shape, the gripper can be used to safely grip, lift and handle any object. Standard interface (ISO) adapters enable the whole unit to be attached to any cobot type on the market with a body made in a lightweight 3D printed material. Approved by Universal Robots as a UR+ end effector.