Huge one-time investments in the deployment of in-pipe inspection robots can further boost the market growth as the product will deliver accurate & exact results along with creating positive cash flow during the forecast period.
According to the research report, the global In-Pipe Inspection Robots market is predicted to be valued at approximately USD 706 million in 2018 and is expected to reach a value of around USD 2,865 million by 2027, at a CAGR of around 16.84 % between 2019 and 2027.

Generally, robots are developed for annihilating human interference across labor-intensive and harmful working conditions. In addition to this, the robots are recruited for exploring remote workplaces and sites having high temperatures. Moreover, inspecting pipes is done by robots as the pipes carry toxic chemicals & fluids and have a small internal diameter that is not accessible to human beings.
Furthermore, the complicated internal structure of the pipes, as well as the harmful content present in the pipes, demand the need of robots for inspecting & determining the rust proportion in pipes, sludge sampling, and formation of scale in the internal pipe surface.
Get a Free Sample of this Report Here:
https://www.fnfresearch.com/sample/in-pipe-inspection-robots-market-by-product-type-132
Precisely, In-Pipe inspection robots assist in the examination of the remains that are created inside the pipe. These robots send video responses from the ground to the controller of the in-pipe inspection robot. Through this, the customers can determine the real condition of the pipe and measure the depth of the deposition on the pipe walls.
The growth of the in-pipe inspection robots industry during the forecast timeline is credited to the transportation of huge proportion of transportation via pipelines in the petrochemical sector. Moreover, the pipeline requires routine maintenance & checkup as contamination of oil & gas in the pipeline can result in disasters.
The growth of the segment during the forecast period is attributed to the ability of the diameter robots to move via very small or tiny pipes. Moreover, they can examine as well as perform functions in myriad pipeline sizes ranging from 150 millimeters to 5000 millimeters.
The segmental growth over the period from 2019 to 2027 is credited to continuous & easy transfer of gas through the pipeline without being ramped down.
Some of the key participants in the business include Aries Industries, Inc., GE Inspection Robotics, IBAK Helmut Hunger GmbH & Co. KG, Radiodetection Ltd. (Pearpoint), RIEZLER Inspektionssysteme GmbH & Co. KG, Xylem Inc. (Pure Robotics), Inuktun Services Ltd., MISTRAS Group Inc. (Aetos), RedZone Robotics, Honeybee Robotics, Envirosight LLC, Medit Inc. (Fiberscope), Ryonic Robotics, and CUES.
Featured Product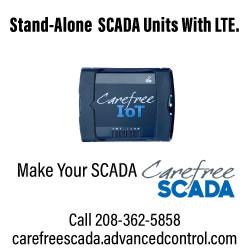 SCADA Edge Connection Devices. Monitor and control your remote assets from anywhere. Simple and self-contained units. Cellular telemetry with the best service plans in the industry. Welcome to the future of SCADA Edge Connection.