Magazino extends robot demo tour into 2021 – a new way to show automation technology to potential customers in times of cancelled logistics events.
Munich, January 20, 2021 - Due to the high demand, the German robotics company Magazino extends its Europe-wide road tour into the first half of 2021. The tour provides interested companies in Belgium, Netherlands, Germany, Poland and the UK a product demonstration in their warehouse with the mobile picking robot TORU. New technology like intelligent robots helps fashion, e-commerce and 3PL companies to reduce picking- and process costs.

While recently approved vaccines provide hope that restrictions linked to the COVID-19 pandemic will be lifted soon, the current development prevents public events like trade shows and conferences, the usual place for companies to scout new technology and innovations. Therefore, Magazino decided to launch a demo tour to bring the robot technology right into the customer's warehouse. The autonomous robot picks, stows and transports objects like shoe boxes in e-commerce warehouses and works alongside the human workforce.
One of the companies that participated in the demo tour is the shoe manufacturer Berkemann in Germany. Romina Regener, Head of Supply Chain at Berkemann, says, "What stunned us was the short time span from the arrival of the Magazino team to see the robot picking shoe boxes in our warehouse on the next morning. We are convinced that flexible and scalable automation is a crucial part of our future growth in e-commerce. It was really helpful for us to see the system operating in our own warehouse infrastructure. Video calls can substitute many business meetings, but nothing beats a product demo you can watch in person. To see the robot in our warehouse environment is even more impressive than on a trade show."
Julia Scholz, responsible Sales Manager at Magazino, says, "Showing an autonomous robot system in the warehouse of a potential customer creates much more trust and insights for both sides. It is a unique way in the industry so far. We are extremely proud that our robot TORU could start picking shoe boxes and deliver real value at all visited warehouses in less than 24 hours."
While the robot is set up by a Magazino engineer in the warehouse on day one of the visits, a workshop is held to assess the current warehouse processes and define potential improvements through the use of TORU. On day two, the customer can bring all stakeholders into the warehouse and watch the Magazino robot pick items in their existing shelf system fully autonomously.
Interested companies are invited to contact Magazino for the remaining tour slots in 2021. Depending on the current and local situation of the pandemic, Magazino will enable a two-day visit while maintaining the highest possible hygiene standards.
About Magazino
Magazino GmbH develops and builds intelligent, mobile robots that perceive their environment and make their own decisions. These autonomous robots work alongside people and make processes in e commerce, fashion and production logistics more flexible and efficient than ever before. With over 110 employees in Munich, Magazino is the largest Advanced Robotics team in Europe. Magazino's investors include Jungheinrich AG, Körber AG, Zalando and Fiege Logistik.
Featured Product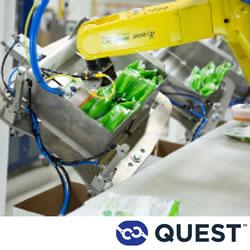 Quest is a leading manufacturer of industrial automation equipment focusing on robotics and vision-guidance. With expertise in the food, beverage, and dairy, Quest optimizes floor space for customers experiencing growing demand and helps improve their overall production line flexibility and efficiency. Quest offers application-specific software on their robotic products, including pick and place, case packing, and palletizing systems to simplify system setup and streamline configurability. Quest is a product brand of ProMach, a global leader in packaging line solutions.