Excellence and Achievement By UK Robotics and Autonomous Systems Community Recognised During Robotics Summer Showcase Closing Ceremony
London, United Kingdom, July 30th 2021—The winners of the first ever EPSRC UK Robotics and Autonomous Systems (UK-RAS) Network Awards were announced today, recognising excellence and achievement by the UK robotics and autonomous systems community during the past challenging year. The following winners across four key categories were revealed during today's online Closing Ceremony of the inaugural Robotics Summer Showcase:
• Rising Star Award - Kai Yuan (University of Edinburgh)
• Early Career Award - Dr. Chengxu Zhou (University of Leeds)
• Impact Award - COBRA consortium (Rolls-Royce, The University of Nottingham, UKAEA RACE, OpTek Systems, with project presentation given by project lead, Dr. James Kell)
• Community Award - Gianmarco Pisanelli (University of Sheffield AMRC)
The award candidates were sourced via an open nominations process, and the winners were selected by an expert panel from the UK-RAS Network's Executive Committee. Attendees enjoyed overview presentations from each of the winners during the virtual closing ceremony, which also featured keynote talks from Professor Samia Nefti-Meziani (Professor of Artificial Intelligence and Robotics, University of Salford) and Dr Anna Angus-Smyth (Head of AI and Robotics, EPSRC), plus a short Q&A.
Today's awards announcement marks the successful conclusion of the EPSRC UK-RAS Network's first Robotics Summer Showcase, a three-month celebration of cutting-edge robotics research and innovation from May to July, which included free-to-register lectures, workshops, demonstrations and a variety of unique events held by Network partners. The showcase was curated by the EPSRC UK-RAS Network as part of its mission to provide academic leadership in robotics, including coordinating activities at over 30 partner universities across the UK. The UK Festival of Robotics highlight week was also hosted for the first time at the end of June, with the aim of engaging different publics with the latest developments in UK robotics and AI research and industry.
Commenting on the first UK-RAS Network Awards winners, Professor Robert Richardson, EPSRC UK-RAS Network Chair said: "We are delighted to celebrate the achievements of our fantastic robotics and autonomous systems community during this especially challenging year and, with the establishment of these annual awards, we look forward to shining a major spotlight each year on the incredible projects, collaborations, and ground-breaking innovations being pioneered by research teams from across our Network. We offer our hearty congratulations to our inaugural winners, and to all of the brilliant researchers nominated this year."
----Ends----
Notes to editors
About the EPSRC UK-RAS Network (https://www.ukras.org/)
The EPSRC UK Robotics and Autonomous Systems Network (UK-RAS Network) is dedicated
to robotics innovation across the UK, with a mission to provide academic leadership in
Robotics and Autonomous Systems (RAS), expand collaboration with industry, and integrate
and coordinate activities at eight Engineering and Physical Sciences Research Council
(EPSRC)-funded RAS capital facilities and Centres for Doctoral Training (CDTs) across the
country.
PRESS CONTACT:
Nicky Denovan
EvokedSet
Email: nicky[@]evokedset[dot]com
Phone: +44 (0) 118 328 2782
Featured Product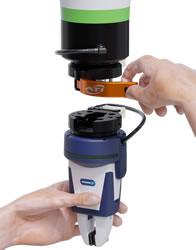 Simpler, stronger, and more precise. ATI Industrial Automation has developed a series of Manual Tool Changers that provides a cost-effective solution for quickly changing tools by hand. They feature a unique design that combines high strength, excellent repeatability, and a patent-pending screw-cam locking mechanism with multiple fail-safe features, which resists vibration and prevents loosening. These robust and compact Manual Tool Changers can handle payloads up to 80 pounds (36 kg) and pass pneumatics and electrical signals.