Large Selection includes Straight, Spiral, Hypoid and Zerol Gears
Mineola, NY - KHK USA Inc., distributor of the market leading KHK® brand of metric gears, announces its extensive line of bevel gears, manufactured to the highest quality standards by Kohara Gear Industry Co., of Japan. KHK's large selection of bevel gears are suitable for a very wide range of applications, and include Straight Bevel Gears and Spiral Bevel Gears, as well as Zerol Gears that have the characteristics of both straight and spiral bevel gears.

Bevel gears are two intersecting cone shaped gears that are used to transmit rotational motion between them. KHK bevel gears are offered in a broad variety of modules, numbers of teeth, materials and styles, with gear ratios of 1.5 through 5. The angle of intersection may be any angle, but it is generally a right angle.
KHK Straight Bevel Gears come in a variety of materials, including Injection Molded Bevel Gears that are suitable for office machines, Plastic Bevel Gears that are lightweight and do not require lubricant, and Stainless Steel Bevel Gears that are ideal for food machinery.
Spiral Bevel Gears have a curved tooth form which provides larger contact surfaces with resulting smoother, less noisy rotation. They are suitable for high-speed heavy load operations. KHK's broad portfolio ranges from reasonably-priced Ground Spiral Bevels to Nissei KSP Ground Spiral Bevel Gears for applications where exceptionally high speed, low noise, and low vibration is required.
KHK Hypoid Gears, sometimes used in automotive rear wheel drives, are a special type of spiral bevel gears which offer high speed reduction ratio, high efficiency, high rigidity and compact gear assembly.
Zerol bevel gears are spiral bevel gears with a nearly zero spiral angle. KHK Zerol Gears have excellent precision and offer the advantages of both straight and spiral bevel gears. The thrust load that occurs with zerol gears are the same as the straight bevel gears so that it is possible to replace straight bevel gears with zerol gears without changing the bearing design.
For more information on KHK Bevel Gears, please visit: www.khkgears.us/products/bevel-gears.
###
About KHK USA Inc.
KHK USA, based in Mineola, New York, is a wholly owned subsidiary of Kohara Gear Industry. KHK USA is a factory direct, full-service distributor of KHK gears with a large selection of product available off-the-shelf and via frequent replenishment to meet your gearing needs. On staff application engineers assist customers with a wide selection of gears for their design or can produce customer gear quotations.
Featured Product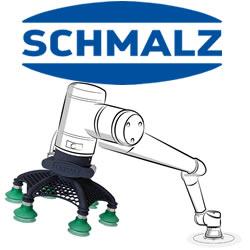 In order to interact with their environment and perform the tasks, lightweight robots, like all industrial robots, depend on tools - and in many cases these are vacuum grippers. These form the interface to the workpiece and are therefore a decisive part of the overall system. With their help, the robots can pick up, move, position, process, sort, stack and deposit a wide variety of goods and components. Vacuum gripping systems allow particularly gentle handling of workpieces, a compact and space-saving system design and gripping from above. Precisely because the object does not have to be gripped, the vacuum suction cupenables gapless positioning next to each other.