Easily Select Among KHK's Enormous Catalog of Stock Metric Gears
Mineola, NY - KHK USA Inc., distributor of the market leading KHK ® brand of metric gears,

released a video tutorial demonstrating the many features of its interactive version of KHK's
extensive catalog of stock metric gears. The online catalog includes spur gears, helical gears, gear racks, worm gears, bevel/miter gears, internal gears and screw gears.
The menu-driven user interface makes it easy to select among the many different options
available such as the material, the module, the number of teeth, the pitch diameter, the bore
diameter, the tooth finish, the precision, the presence of a keyway, and the allowable torque
.
After the selection process, the online catalog displays a printed version of the piece and outputs a 3D CAD drawing, with many options for the CAD software file format. The video tutorial also explains how to execute the strength calculation function.
KHK stock gears allow for secondary operations such as opening the bore, adding of keyways, adding of tapped holes, and the reduction of the hub diameter to be performed. The video tutorial demonstrates how these secondary operations can be specified and how drawings of these enhancements can be generated.  
The video tutorial is available at youtu.be/pI3ecCbaN2s.
###
About KHK USA Inc.
KHK USA, based in Mineola, New York, is a wholly owned subsidiary of Kohara Gear Industry.
KHK USA is a factory direct, full-service distributor of KHK gears with a large selection of
product available off-the-shelf to meet your gearing needs. On staff application engineers assist
customers with a wide selection of gears for their design and can produce customer gear
quotations.
Featured Product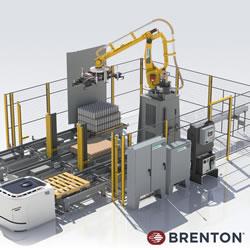 Brenton is a leader in robotic solutions with standard product offerings including palletizing and depalletizing for efficient an option for carrying hard-to-handle products, as well as larger scale systems with an optimized footprint; and case and carton loading solutions for numerous industries. In addition, Brenton works with customers on integrated solutions, offering robotics in a broad spectrum of robotics to fully integrate end of line systems. Brenton helps packaging customers protect their reputation and grow the trust of their consumers.