Industrial IoT Market analysis report presents information related to key drivers, restraints, and opportunities with a detailed impact analysis over the forecast period.
Industrial Internet of Things (IIoT) refers to the way physical assets are connected to the internet, enabling smart monitoring, data collection and analysis. Advancement in technologies such as cloud computing platforms and artificial intelligence will further enable businesses to gain insights from the data collected by IIoT devices to address business needs.

Innovative Industrial Internet of things (IIoT) applications, growing demand for industrial IoT in emerging-economy markets, and extensive government support in encouraging digitalization across the industrial sector are expected to drive the global industrial IoT market.
Global industrial IoT market will reach $205.7 billion by 2030, growing by 10.8% annually over 2020-2030 driven by extensive government support in encouraging digitalization across the industrial sector, rise in adoption of industrial IoT devices, and growing incorporation of advanced technologies such as cloud computing platforms and AI.
Industrial IoT: Applications
• Data Management Solutions for Analytics
• Smart Robotics
• Distribution Management System
• Manufacturing Execution System (MES)
• Asset and Resource Optimization
• Product Lifecycle Management
• Remote Monitoring
• Retail Management System
• Predictive Maintenance
• Other Applications
By Offering
• Hardware
• Software & Solutions
• Services
o Professional Services
o Managed Services
• Connectivity
o Wired Technology
o Wireless Technology
o Field Technologies
Key Technology
• Sensors
• Camera
• Distributed Control Systems
• Industrial Robotics
• Condition Monitoring
• RFID
• Yield Monitor
• GPS/GNSS
Industry Vertical
• Manufacturing Industry
• Automotive & Transportation
• Energy and Utilities
• Healthcare
• Oil & Gas
• Agriculture
• Metal and Mining
• Retail Industry
Featured Product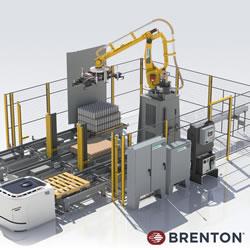 Brenton is a leader in robotic solutions with standard product offerings including palletizing and depalletizing for efficient an option for carrying hard-to-handle products, as well as larger scale systems with an optimized footprint; and case and carton loading solutions for numerous industries. In addition, Brenton works with customers on integrated solutions, offering robotics in a broad spectrum of robotics to fully integrate end of line systems. Brenton helps packaging customers protect their reputation and grow the trust of their consumers.