Funding available to access world-class facilities
An internationally leading robotics initiative that enables academia and industry to find innovative solutions to real world challenges, celebrated its success with a Hot Robotics Symposium hosted across three UK regions last week.

The National Nuclear User Facility (NNUF) for Hot Robotics is a government funded initiative that supports innovation in the nuclear sector by making world-leading testing facilities, sensors and robotic equipment easily accessible to academia and industry.
Ground-breaking, impactful research in robotics and artificial intelligence will benefit the UK's development of fusion energy as safe, low carbon and sustainable energy source in addition to adjacent sectors such as nuclear decommissioning, space, and mobile applications.
Visitors to UKAEA's RACE (UK Atomic Energy Authority / Remote Applications in Challenging Environments) in Oxfordshire, the University of Bristol facility in Fenswood Farm (North Somerset), and the National Nuclear Laboratory in Cumbria, were treated to a host of robots in action, tours and a packed speaker programme.
A combination of robotic manipulators, ground, aerial and underwater vehicles along with deployment robots, plant mock-ups, and supporting infrastructure, were all showcased to demonstrate the breadth of the scheme.
Nick Sykes, Head of Operations at UKAEA's RACE, said: "The Hot Robotics Symposium has provided a fantastic opportunity for academia and industry to learn more about research that takes place at each facility and to see some of the amazing equipment available. The valuable role that robots play in going where humans can't, has already been proven at powerplants throughout the world and will be key in making fusion energy an environmentally responsible part of the world's energy supply."
These facilities support academia and industry in developing and maintaining UK skills to support work in extreme and challenging environments.
Darren Potter, Capability Leader for Plant Intervention at the National Nuclear Laboratory, said: "This was a great opportunity to showcase NNL's facility at our Workington Laboratory, which holds industrial scale robotics, and accurate replicas of facilities on active plant. As the UK's national laboratory for nuclear fission, this facility gives access to our unique set of capabilities, enabling ground-breaking nuclear research and development, with an offsite de-risked opportunity for academia and the supply chain to demonstrate new technology, giving users everything they need to explore brand new technologies and solutions."
An additional benefit of Hot Robotics is to help support the development of scientists and engineers.
Chris Grovenor, Chair of the NNUF Management Group, said: "It was a pleasure to see the progress being made with the NNUF Hot Robotics programme, and I encourage the nuclear academic community to make full use of the funding available to access these world-class facilities."
To find out more about the NNUF Hot Robotics facilities and equipment, visit: www.hotrobotics.co.uk
For further information, media interviews or photographs, please contact: Kelly Lea, media manager, UKAEA, E: kelly.lea@ukaea.uk, M: 07988 195 262.
About NNUF Hot Robotics
The National Nuclear User Facility for Hot Robotics (NNUF-HR) is an EPSRC funded facility to support UK academia and industry to deliver ground-breaking, impactful research in robotics and artificial intelligence for application in extreme and challenging nuclear environments.
To hire the equipment and use the facilities, please view the range and book via the website: www.hotrobotics.co.uk.
Featured Product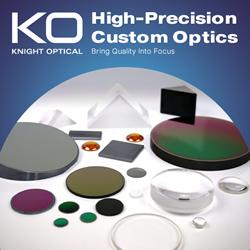 Knight Optical (KO) has provided discerning engineers, designers, and the like from the automation sector with dependable, premium-quality optics for over three decades. Throughout this time, the leading supplier has helped refine the precision of some of the world's most innovative technologies and partnered with a wide range of companies throughout the industry. In this article, Automation talks to KO about its involvement in the sector and, ultimately, finds out more about how the optical brand can help your supply chain process.