SAE Media Group reports: Less than a month left for SAE Media Group's Airborne ISR conference
SAE Media Group is proud to present the 6th Annual Airborne ISR conference taking place in London on the 19 and 20 October 2022.

The conference will provide delegates with insights that cover in detail Maritime Patrol, Data Dissemination, UAV Technology, International Surveillance Cooperation, AWACS, 5th Generation ISR, Industrial Engagement, and Threat Evolution.
A diverse range of nations including the UK, USA, Italy, Germany, Portugal, Lithuania, Romania, and more, will speak about the latest developments.
This is a not to be missed opportunity where delegates will meet and network with military and industry decision-makers in Airborne ISR as well as experts who are defining the future of technological capabilities.
This year's conference is proudly chaired by Air Commodore (ret'd) Paddy Teakle, Former Deputy Commander, NATO AEW&C Force Command, NATO, welcoming people interested in the future of Airborne ISR to attend.
Some of the featured Military & Industry Speakers include:
 Air Commodore James Beck, Assistant Chief of Staff Capability Strategy - HQ Air Command, RAF
 Brigadier General Andrew Clark, Commander Allied Ground Surveillance Force, NATO
 Colonel Eric Mack, Commander 363d ISR Wing, USAF
 Colonel Jeffrey Davis, 14 Wing Commander, Royal Canadian Air Force
And many more…
A truly global event, delegates will hear from expert industry and military speakers from around the world on the full spectrum of challenges, priorities, and updates for allied armed forces, as Airborne ISR capabilities have become more vital for effective operations.
Featured Product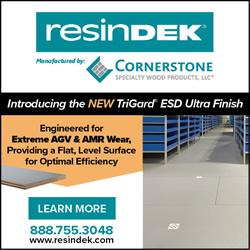 We know that the durability and condition of floors are important for optimal performance of AGV's and AMR's. Coefficient of friction, surface roughness, floor flatness, gloss, and wear can all affect the ability of robots to run at their peak performance. That's why we go to great lengths to extensively test internally and send our products to be evaluated by independent laboratories as well as the robotic manufacturers. In addition, we can customize the finish for any specification required.