SAE Media Group reports: Less than a month left for SAE Media Group's Airborne ISR conference
SAE Media Group is proud to present the 6th Annual Airborne ISR conference taking place in London on the 19 and 20 October 2022.

The conference will provide delegates with insights that cover in detail Maritime Patrol, Data Dissemination, UAV Technology, International Surveillance Cooperation, AWACS, 5th Generation ISR, Industrial Engagement, and Threat Evolution.
A diverse range of nations including the UK, USA, Italy, Germany, Portugal, Lithuania, Romania, and more, will speak about the latest developments.
This is a not to be missed opportunity where delegates will meet and network with military and industry decision-makers in Airborne ISR as well as experts who are defining the future of technological capabilities.
This year's conference is proudly chaired by Air Commodore (ret'd) Paddy Teakle, Former Deputy Commander, NATO AEW&C Force Command, NATO, welcoming people interested in the future of Airborne ISR to attend.
Some of the featured Military & Industry Speakers include:
 Air Commodore James Beck, Assistant Chief of Staff Capability Strategy - HQ Air Command, RAF
 Brigadier General Andrew Clark, Commander Allied Ground Surveillance Force, NATO
 Colonel Eric Mack, Commander 363d ISR Wing, USAF
 Colonel Jeffrey Davis, 14 Wing Commander, Royal Canadian Air Force
And many more…
A truly global event, delegates will hear from expert industry and military speakers from around the world on the full spectrum of challenges, priorities, and updates for allied armed forces, as Airborne ISR capabilities have become more vital for effective operations.
Featured Product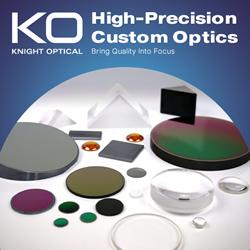 Knight Optical (KO) has provided discerning engineers, designers, and the like from the automation sector with dependable, premium-quality optics for over three decades. Throughout this time, the leading supplier has helped refine the precision of some of the world's most innovative technologies and partnered with a wide range of companies throughout the industry. In this article, Automation talks to KO about its involvement in the sector and, ultimately, finds out more about how the optical brand can help your supply chain process.