Autonomously reversing into trailers is one of the final steps in completing fully autonomous yard operations. ASI and SICK have come together to solve this phase of autonomous yard truck operations.
ASI Logistics and SICK, Inc. announce another milestone in the development of autonomous yard truck operations. Together, they solved the issue of reversing into trailers autonomously. Autonomously reversing into trailers is one of the final steps in completing fully autonomous yard truck operations. ASI Logistics utilized its robust Vehicle Automation Kit (VAK) and SICK's industry-leading LiDARs to overcome this challenge.

Aaron Rothmeyer, Product Manager for SICK, spoke on the importance of LiDAR in autonomy: "SICK recognizes that better autonomous vehicles are only possible with better sensing technologies. As such, SICK is continually innovating its product portfolio to take advantage of the latest tools and ideas. Their substantial experience with optical devices shows up in well-designed sensors all the way down to the component level. In addition, SICK is also heavily involved in the creation and updating of global safety standards which is a critical step to ensuring autonomous vehicles' continued success."
HOW IT WORKS
For autonomously reversing into trailers to operate correctly a few technical details must be known. The autonomous trucks must know the position and height of the trailer's kingpin it is reversing into. The kingpin is the mechanism under the trailer that connects to the truck's fifth wheel and locks the trailer to the truck. The truck must be able to command the kingpin connection, and the truck must be commanded to reverse autonomously into trailers.
ASI Logistics leverages a state-of-the-art VAK to control its autonomous yard trucks. Inside the VAK is the truck's Vehicle Control Unit (VCU). The VCU commands all the truck's functions when the truck is in autonomous mode. Relying on quality data transmission from the sensors to the VCU is key to reversing into trailers autonomously. ASI utilizes two SICK LiDARs, the LMS1000 for kingpin position, and the TIM551 for kingpin height.
SICK has been developing optical products for industrial applications since 1946. With 75 years of experience working in rugged environments, SICK delivers quality data even when conditions aren't always ideal. SICK's LiDARs use light detection and ranging to target objects with a laser and measure the time that passes until the reflected light returns to the receiver. This means LiDAR sensors are capable of generating a 3D or 2D image with spatial and depth data for detecting, measuring, localizing, and tracking objects. LiDAR sensors installed in robot arms, manned forklifts, and yard trucks provide greater efficiency, accuracy, and safety by simplifying and optimizing handling, transport, loading and unloading, and material storage.
As the truck reverses, the two LiDARs detect where the trailer's kingpin is and relay this information to the truck's VCU. The VCU then commands the throttle, brakes, steering, and fifth wheel to continue to reverse safely into the trailer until a secure and safe connection to the kingpin is made. Once the connection is made, sensors indicate that the truck has a secure connection and is now ready for the robotic arm to attach the necessary glad-hands and continue with the rest of the move.
This whole process is completed using ASI's Mobius software. Mobius is the most advanced command and control software for autonomous vehicles in the world and is backed with over 20 years of industry experience and has millions of data testing hours behind it. Mobius shows real-time vehicle movement, vehicle state, kingpin alerts, and robotic arm control all from a user that can be on-site or anywhere in the world.
ASI's Mobius combined with SICK's LiDARs offer huge potential to continuously deliver the most advanced autonomous yard truck solutions in the world.
About ASI:
Autonomous Solutions, Inc. (ASI) is a world leader in industrial vehicle automation. ASI serves clients across the world in logistics, mining, agriculture, automotive, government, and manufacturing industries with remote control, teleoperation, and fully automated solutions from its headquarters and 100-acre proving ground in northern Utah.
About SICK:
Founded in 1946, SICK is one of the world's leading solutions providers for sensor-based applications in the industrial sector. From factory automation to logistics automation and process automation, SICK's sensor solutions are keeping the industry moving. As a technology and market leader, SICK provides sensor intelligence and application solutions that create the perfect basis for controlling processes securely and efficiently, protecting individuals from accidents, and preventing damage to the environment.
Featured Product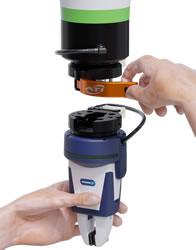 Simpler, stronger, and more precise. ATI Industrial Automation has developed a series of Manual Tool Changers that provides a cost-effective solution for quickly changing tools by hand. They feature a unique design that combines high strength, excellent repeatability, and a patent-pending screw-cam locking mechanism with multiple fail-safe features, which resists vibration and prevents loosening. These robust and compact Manual Tool Changers can handle payloads up to 80 pounds (36 kg) and pass pneumatics and electrical signals.