ICC Digital is growing from Turkey to Europe!
ICC Digital (ICC Dijital Endüstriyel Teknolojiler Ltd. Şti.), which is one of the well-known company that come to mind when it comes to industrial computers in Turkey, thanks to its diverse and high quality product range; With the growth and development habit it has gained since the day it was founded, it made a rapid start to 2023.

ICC Digital, which provides industrial computers for factory automation, digitalization and industry 4.0 needs with its own brands IPC4 and ECOIPC4, in its journey that started with the Turkey representation of AAEON and IBASE, expanded its successes in Turkey with its 15-person staff and expanded in Europe, in the industrial computer market. took action with the vision of having a say. Aiming to achieve new successes in Europe with ICC Bulgaria (Industrial Computer Center EOOD) established in Bulgaria in August 2022 and ICC Europe (ICC Digital Industrial Technologies Bv.) established in Belgium in November 2022, ICC Digital is on this path. under the leadership of its own brands, IPC4 and ECOIPC4, and the AAEON of ASUS, is preparing to knock on the door of every company in Europe.
ICC Digital follows the motto that the products it provides for industrial applications that will work 24/7. For this reason, it prioritizes solving customers' problems quickly and effectively with its technical support and logistics teams.
ICC Digital, which does not want to cause disruptions in the projects of its customers even in the days when uncertainty prevails due to reasons such as pandemic, war, economic uncertainty, chip crisis in today's world, has strengthened its stocks day by day by calculating all negative variables in advance and has increased its inventory of industrial panel pc, box pc, monitor, tablet pc and more. It has never stopped providing fast solutions by keeping most of the nearly 2000 different combinations in stock in laptop products. With this approach, it aims to continue the positive feedback from its customers and the rapid growth it has achieved with its companies established in Europe.
A few days after its establishment, ICC Europe acquired the authorized sales partner of AAEON for Benelux (Belgium-Netherlands-Luxembourg) and Balkan countries, and the first step was taken to reach the high sales figures achieved in Turkey in Europe as well.
The founder Tamer Yiğit, who always aims to move the company forward; He states that he will continue his working life in Belgium in order to carry the business culture, which was founded in Turkey and operates smoothly, to ICC Europe, and to manage the operations that need to be carried out with the aim of making ICC Europe known in Europe.
Web links:
ICC Dijital Endüstriyel Teknolojiler Ltd. Şti. www.icc.com.tr https://www.linkedin.com/company/17954997/
ICC Digital Industrial Technologies Bv. www.iccdigital.eu https://www.linkedin.com/company/86443736
Industrial Computer Center EOOD www.industrialcomputercenter.com https://www.linkedin.com/company/87086082
Tamer Yiğit Linkedin https://www.linkedin.com/in/tamer-yigit-icc/
Featured Product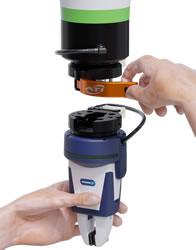 Simpler, stronger, and more precise. ATI Industrial Automation has developed a series of Manual Tool Changers that provides a cost-effective solution for quickly changing tools by hand. They feature a unique design that combines high strength, excellent repeatability, and a patent-pending screw-cam locking mechanism with multiple fail-safe features, which resists vibration and prevents loosening. These robust and compact Manual Tool Changers can handle payloads up to 80 pounds (36 kg) and pass pneumatics and electrical signals.