Gentle handling solution at affordable cost: a pick-and-place system integrated with servo technology and Bernoulli Gripper to simulate the extravagant robotic approach and still with friction and wear minimized.
ÉLITER Packaging Machinery works with a local medical company to design and install a packaging and cartoning system that to be synchronized with their already-installed flow wrapper, from which nano-needles packed in plastic bags are fed towards the cartoner. The project requires smooth, gentle and accurate handling for pick-and-place without damage or wear caused to the containment.

The budget given does not allow the application of robotic solutions such as a delta robot. Instead, ÉLITER Packaging Machinery developed an alternative smart solution incorporated with a smart conveyor system with multiple servo and sensors to time and organize the flow path of nano-needles packed in plastic bags coming from the HFFS, then a servo-driven unit that works in an intermittent pattern with each movement for 90 degree, joined by pneumatic solutions with Bernoulli Grippers to allow gentle pick-and-place for nano-needles. The whole system is computerized by programmable logic controller.
¨ Syringe products are vulnerable to abusive handling and call for high-end or at least gentle solutions all along the packaging processes,¨, commented Senyu, mechanical engineer at ÉLITER Packaging Machinery.
¨ This system in fact is not as smart as a delta robot, now that there is no visual detection involved, nor can the system handle random inflow of products through a conveyor. That is way we turn to a smart conveyor system which consists of several servo driven conveyors with different functions such as phasing, timing and accelerating to organize the inflow of medical needles. The key factor here is the use of Festo's Bernoulli Grippers which allow than transport, pick and place of extremely delicate articles as these medical needles.¨, added Senyu.
Rather than a delta robot and robotic pick-and-place system, this entry-level solution allows still gentle handling for delicate articles at low installation cost, though with some prerequisites.
About ÉLITER Packaging Machinery
ÉLITER Packaging Machinery - a HUANENG company, is a family-owned business located in Wenzhou, China, and a manufacturer and global supplier of cartoner, film overwrapping and wrap-around sleever. For more information, please visit:
https://www.eliter-packaging.com
Featured Product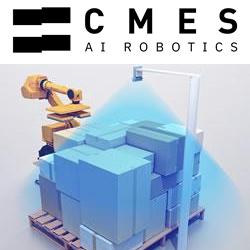 Powered by AI, CMES Robotics enables 3D vision for factory robots. CMES AI vision software enables robots to recognize unstructured, flexible, or deformed objects, pick them up, and loading and unloading. CMES Vision software has been deployed worldwide for random palletization and depalletization along with void filling applications. CMES Robotics automates your warehouse, logistics, and supply chain. For more information, please visit: cmesrobotics.com or email info@cmesrobotics.com.