Mencom's V-TYPE lever for secure connection offers a unique closing mechanism, stainless steel construction, and vertical pressure-based locking providing durability and protection (IP66/IP67/IP69).
Mencom introduces the innovative V-TYPE lever for rectangular connectors in response to the increasingly diverse and specialized performance requirements for securing the connections against severe vibration in harsh manufacturing environments. The V-TYPE lever distinguishes itself from other types of levers due to its unique closing mechanism consisting of two hinged elements that are pivoted on the housing. This composite movement allows the levers to move over the pins on the housing with an initial rotational movement and push down to engage the locking mechanism, which results in a tight seal with a high degree of protection (IP66/IP67/IP69 according to EN 60529).

Constructed of stainless steel, the V-TYPE lever features a secure latch to prevent unintentional release, and the lack of plastic parts provides several benefits including increased durability against impact, corrosion from oil, chemicals, and high temperatures. Their distinct vertical pressure-based locking mechanism greatly minimizes friction on the pegs, resulting in reduced wear and substantially enhanced longevity, even with frequent use. Thanks to its spring-free, compact, and sturdy design, it is well-suited for industrial applications constrained by limited space and vibrations. This secure locking mechanism prevents accidental opening as well, particularly in situations where connectors are installed vertically and the weight of the heavy cable installed on the bottom could force the lever to open.
The V-TYPE lever's fixing flanges are engineered to be identical to those of traditional models, ensuring that new housings with the V-TYPE can replace the old version without affecting interchangeability or requiring changes to dimensions, flanges, or mounting positions. The V-TYPE lever is offered in both bulkhead and surface-mounted configurations, with a single lever available for size 44.27 and double levers available for sizes 57.27, 77.27, and 104.27.
For more information, contact the factory or visit www.mencom.com.
Featured Product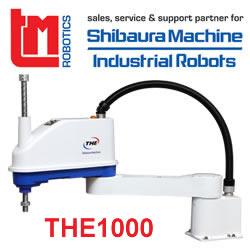 Designed for assembly and inspection applications in the electronics equipment and automobile components industries, the THE600 SCARA is a powerful automation tool. Advancing from the specifications of the existing THE400 SCARA, the THE600 has been developed to meet growing demand for fast-cycle automation. The THE600 model includes improvements in synchronised control and tracking precision. The THE600 is compact in design and offers improved high speed, with 60 per cent higher payload capacity than competing SCARA models in the same price range, making it the price-to-performance leader. Affordable price, impressive performance.