PickNik Robotics, a leading provider of advanced robotic solutions, announces their successful collaboration with NASA through two Small Business Innovation Research (SBIR) contracts.
[Boulder, June 8th, 2023] - PickNik Robotics, a leading provider of advanced robotic solutions, is pleased to announce its success in securing two Small Business Innovation Research (SBIR) contracts with NASA. These prestigious contracts highlight PickNik Robotics' continued expertise in developing cutting-edge technologies for autonomous robotic manipulation, utilization, and maintenance, as well as integrated mission planning and execution for space operations.

The first SBIR award focuses on a groundbreaking project titled "A Framework for Failure Management and Recovery for Remote Autonomous Task Planning and Execution." With NASA's increasing need for highly autonomous robotic systems to maintain critical spaceflight hardware, PickNik Robotics is pioneering a novel fault detection and reporting system. This system will empower remote operators to diagnose and resolve failures in real-time, allowing them to adjust task specifications and guide the in situ robot to recover and complete the objective. By developing comprehensive software tools and user interfaces, PickNik Robotics aims to enhance the capabilities of NASA's robotic endeavors, including the Artemis program and other projects such as Dexterous Robotics Lab, Robonaut, SPHERES, Astrobee, and OSAM servicing missions. Furthermore, the versatility of this system extends beyond NASA, presenting potential applications in commercial space flight, defense, and other terrestrial industries.
The second SBIR award centers around the project "Task and Motion Planning for Space Operations, with Human-Assisted Recovery." As space operations increasingly rely on Persistent Assets, which demand repeated visits and regular maintenance, the need for autonomous systems becomes paramount. PickNik Robotics proposes integrating Task and Motion Planning into its MoveIt Studio product, allowing remote operators to provide high-level task specifications while the autonomous system generates and executes action sequences to meet those specifications. To address unforeseen errors, a mechanism for autonomous failure identification and remote operator intervention will be implemented. This system not only enhances the autonomy capabilities of robotic systems in space but also reduces the cognitive load on remote operators by elevating their role in human-machine teams to higher-level goal specifications and task monitoring. The potential NASA applications span zero-gravity systems, extraplanetary surface systems, habitats, laboratories, construction sites, and more. Outside of NASA, this innovation holds promise for logistics, manufacturing, home service, hospitality, public safety, and asset inspection industries.
PickNik Robotics is excited to embark on these transformative projects in collaboration with NASA. PickNik's CEO, Dr. Dave Coleman, remarked "We are pushing the boundaries of autonomous robotic systems in order to revolutionize space operations. We believe this will also open new horizons for commercial applications."
Through its flagship product, MoveIt Studio, PickNik Robotics will empower operators to achieve unprecedented levels of control and efficiency in robotics tasks. For more information about PickNik Robotics and its groundbreaking projects, please visit https://picknik.ai/.
About PickNik Robotics:
PickNik Robotics, also known by their tagline as The Unstructured Robotics Company, is a leading provider of advanced robotic solutions, specializing in motion planning, control, and perception for robotic systems. With expertise in a wide range of industries, including aerospace, manufacturing, defense, and logistics, PickNik Robotics empowers clients to overcome complex challenges through cutting-edge technology. The company's flagship product, MoveIt Studio, revolutionizes the way operators plan and execute robotic tasks with unparalleled precision and efficiency. For more information, visit https://picknik.ai/studio/.
Media Contact:
Shane Allen
Director of Marketing, PickNik Robotics
Email: shane.allen@picknik.ai
Phone: +1 561 566 2681
Featured Product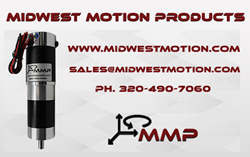 MMP specializes in supplying high-quality Brushed & Brushless DC Motors & Gearmotors for Robotics and Automation Equipment with a wide range of motor windings and gear ratios. With an impressive track record of more than 8,000 released DC Gearmotors designs and over 2,000,000 individual part numbers, we are renowned for our ability to handle large-scale orders. Due to our huge on-hand inventory, we are also well known for lightning-fast delivery of our standard products. We take pride in our dedicated customer service and our team of knowledgeable sales and engineering experts who are ready to assist you with custom design solutions tailored to your specific application. Additionally, we also offer a wide range of complimentary products, such as DC Motor Controls, DC Linear Actuators, AC-DC power Supplies, and DC Servo Amplifiers and others.