Las Vegas is a place tailor-made for big reveals, which is why it's the perfect location to launch our new XCP Series continuous motion case packer. The XCP is designed for that mid-level customer looking to package between 35-70 cases per minute.

Q&A with | Brenton Engineering
Tell us about your company
Brenton is a global leader in the designing and manufacturing of integrated end-of-line case packaging systems and machines, specializing in case packing and palletizing using both robotics and other automation. Its packaging solutions are commonly used in food, beverage, personal care, and household product applications. Brenton is a product brand of ProMach, a global leader in packaging line solutions. As part of the ProMach Robotics and End of Line business line, Brenton helps packaging customers protect and grow the reputation and trust of their consumers. ProMach is performance, and the proof is in every package.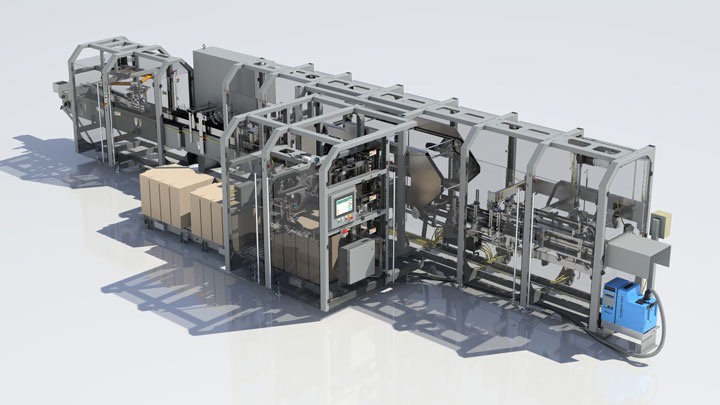 Your company will be exhibiting at PACK Expo, what is it that makes this an important event for your company?
PACK EXPO is our signature event for the year. It gives us a great opportunity to not only connect with current customers, but also engage people who may not be familiar with the brand. PACK EXPO is a perfect venue to showcase our new packaging technologies and demonstrate how those innovations can help add efficiencies to packaging lines big and small.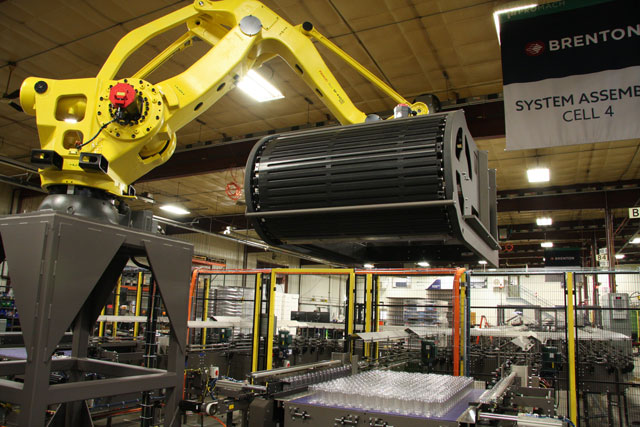 What makes your booth a must visit for PACK EXPO attendees?
Las Vegas is a place tailor-made for big reveals, which is why it's the perfect location to launch our new XCP Series continuous motion case packer. The XCP is designed for that mid-level customer looking to package between 35-70 cases per minute. It is engineered to enable fast, consistent changeovers, including easy access to all critical areas of operation. Brenton's engineering team focused its XCP design on ease of operation, troubleshooting, and access – three attributes that are key to long-term success.

Additionally, attendees can experience the full capabilities of its MP1000 Robotic Bulk Palletizing / Depalletizing End of Arm Tool through an interactive augmented reality model of the machine. The MP1000, designed to pick up full layers of product at one time, is a great time-saving solution for a variety of plastics- and glass-handling applications. It provides consistent tight layer grids of palletized and depalletized product through cradle and place technology that combines a servo-operated rotary tool and slat system to gently handle full layers of product weighing up to 500 pounds with each motion.
PACK Expo has many educational sessions, forums & Demo's, is your company involved in any of them this year?
While Brenton may not be engaged in educational sessions offered by PACK EXPO, our involvement extends to ProMach's Innovation Station and Vertical Market display. The Innovation Station effectively showcases ProMach's strides in packaging innovation over the past two years, leveraging videos, images, and tangible product samples. Additionally, the Vertical Market Display highlights prominent ProMach brands tailored to diverse industries, including ready to drink beverage, distilled spirits, petfood, and sauces and dressings. This exhibit presents a comprehensive, fully integrated distilled spirits line, seamlessly incorporating ProMach's brands throughout the entire production process.
The logistics is undertaking rapid advancements, be it automation, robotics, machine vision or data. Logistics is a huge part for many manufacturers business, give us an idea on how your company and product is being utilized now in advancing logistics, packaging and the supply chain.
Brenton plays a pivotal role in propelling logistics, packaging, and the supply chain forward through innovative solutions. By seamlessly integrating automation, robotics, and cutting-edge machine technologies, Brenton's products optimize efficiency, accuracy, and throughput, revolutionizing the way manufacturers streamline their operations and elevate the entire industry's standards.
Give us your thoughts on what the future holds for manufacturers and logistics.
In the future, manufacturers and logistics will witness a transformative shift driven by a convergence of technologies. Advanced robotics, AI-driven automation, and real-time data analytics will orchestrate a highly adaptive and responsive supply chain, reducing lead times and minimizing disruptions. Customization will become more seamless as smart manufacturing enables on-demand production, while sustainability concerns will drive the adoption of eco-friendly packaging and efficient distribution networks. Collaboration across industries will be paramount, fostering innovation that reshapes traditional models and creates a dynamic ecosystem of interconnected processes.
Brenton (https://www.brentonengineering.com/), is exhibiting in booth C-3822 at PACK EXPO 2023.
The content & opinions in this article are the author's and do not necessarily represent the views of RoboticsTomorrow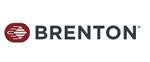 Brenton Engineering Company
Brenton is a global leader in designing and manufacturing integrated end of line packaging systems, specializing in case packing and palletizing using both robotics and other automation. With over 30 years of experience in providing solutions for the consumer packaged goods, food, beverage, other manufacturing industries, Brenton centers on creating collaborative, long-standing partnerships across a diverse customer base while utilizing the latest technology to address changing market conditions.
Other Articles
Equipment Flexibility Key to Accommodating Changing Applications , The Upside of Automation on Your End-of-Line Operation, The Value of Project Management
This cell included four robots picking lids and packing them into one of four SKUs. This cell, encapsulated in a small footprint, also included an auto adjustable case sealer to accommodate the four different SKU boxes, a palletizer and stretch wrapper.
---
Comments (0)
This post does not have any comments. Be the first to leave a comment below.
---
Post A Comment
You must be logged in before you can post a comment. Login now.
Featured Product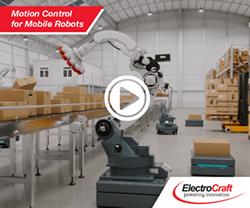 ElectroCraft is showcasing its award-winning mobile robot technology including their powerful and compact wheel drives, high-torque-density brushless DC motors, precision linear actuators as well as servo motor drive technology at a variety of conferences and tradeshows including the Boston Robotics Summit. Robotics Summit is the premier symposium for the sharing of ideas, technology, and market developments for robotic technologies across industries. Beyond a showcase and pitch of product, ElectroCraft is eager to participate in the collaborative discussion of challenges and opportunities that will shape the near and long-term robotic marketplace.