Spotlighting the breadth and scope of its automation capabilities, KUKA will feature a wide variety of robotic solutions from education and training to augmented reality and collaborative robots at WIMTS 2023.
SHELBY TOWNSHIP, Mich., September 21, 2023 - Spotlighting the breadth and scope of its automation capabilities, KUKA will feature a wide variety of robotic solutions from education and training to augmented reality and collaborative robots at WIMTS 2023.

KUKA will demonstrate two of its mobile, all-in-one training cells: KUKA Edu_Additive and its Edu_ArcWelding education cart. The Edu_ArcWelding training cell includes a KR AGILUS-2 and Lincoln R450 welder, fits through standard size doors and can be used without the welder for general training purposes. The cart also features a fume extractor, built-in fixture table and available options that include Touch Sense, Arc Sense, TRACC TCP and KUKA.Sim. KUKA also provides training courses and project-based digital lesson books with Edu_ArcWelding. Developed as a complete starter package for schools, universities and company learning centers, the cart streamlines training and directly addresses current skilled labor shortages.
Similarly, the Edu_Additive training cell allows students to quickly learn the basics of robotic programming for 3D printing of complex components, parts and structures. The cell uses the fast, accurate KR 4 AGILUS six-axis robot with training, curriculum and support provided by KUKA's System Partner One Off Robotics. Featuring a quick-release print bed, filament detection and 1kg/hr extruder, the cell is compatible with any robotic path planning software and is suitable for varying levels of difficulty.
Using a KUKA LBR iisy, KUKA Partner LightGuide will demonstrate human-robot collaboration (HRC) with an augmented reality (AR) workflow process that efficiently guides frontline assemblers for zero-defect manufacturing. The LBR iisy cobot can be taught by hand and requires no special programming knowledge to commission. Equipped with highly sophisticated sensor technology, the LBR iisy is fully HRC-capable and suitable for a wide variety of manufacturing applications.
The LBR iisy will also be featured in KUKA System Partner Waybo's mobile, collaborative robotic machine tending cell demonstration of a ZEISS DuraMax CMM. The turnkey co-PartNR robotic cell is designed specifically for high-mix/low-volume machine shops and leverages the LBR iisy's versatility, quick tool changing capability and intuitive operation for a variety of machine-tending tasks, including inspection, marking and cleaning.
Another HRC demonstration will utilize an AIRSKIN fitted to a KR CYBERTECH robot performing a part handling and visual inspection application in open space without protective fences. The KR CYBERTECH is a compact, multi-function robot that can reach exceptionally high speeds without losing precision. With the ability to be mounted in virtually any position - floor, ceiling, wall or angle - and its streamlined design, the KR CYBERTECH is ideally suited to space-saving cell designs in handling applications. The six-axis KR CYBERTECH models are rated for payloads ranging from 8 to 22 kg with reaches of 1,612 to 2,013 mm while providing repeatability of 0.04 mm. The fenceless application is designed and built by DuroByte, a strategic partner with AIRSKIN that integrates the technology into its automation systems. DuroByte is a leading provider of robotic integration and automation solutions to a variety of industries that enhances overall safety and performance since 2002. Visitors to the demonstration will be invited to touch the robot safety skin to create a near instant safety-stop condition. The DuroByte system is fully Cat 3/SIL 3 certified.
In addition to education and HRC, KUKA has teamed with Plasmatreat Openair-Plasma jet technology to demonstrate non-chemical substrate surface preparation and finishing. Using a six-axis KR AGILUS robot to perform high-precision surface cleaning prior to bonding, gluing, printing or other applications processes, the technology shortens production times and reduces rejection rates without producing chemical waste.
Attendees will also see a live robotic milling demonstration from KUKA System Partner Robotic Solutions that uses a KR 50 R2500 IONTEC in a medium-sized, high-accuracy milling cell. The KR IONTEC is a highly versatile medium payload robot that boasts the largest work envelope and lowest maintenance requirements in its class. Digital Motion Modes allow users to easily adapt the KR IONTEC's performance to various processes or substeps depending on the need for higher precision or speed, and the payload capacity can also be adjusted even after installation for maximum production flexibility. The IONTEC F variant foundry option allows the robot to be used in extremely hot environments with an extended temperature range from 0 to 55 degrees Celsius.
Robotic Solutions is a turnkey CAD-to-path systems provider that provides offline programming, collision checking and simulation. The company has been selling milling robot systems for almost two decades to a variety of industrial sectors, including automotive, aerospace, foundry, sign making and woodworking.
KUKA's training cells and other advanced robotic applications can be seen in booth 527 at WIMTS 2023, October 3-5 at Wisconsin State Fair Park in West Allis, Wisconsin.
As with all KUKA automation solutions, the Edu_ArcWelding training cell and other featured products shown at WIMTS 2023 are backed by the company's expert service and support for training, complete system engineering and simulation, readily available spare parts, robot refurbishment and more. All of which are easily accessible through the my.KUKA.com site, and KUKA maintains corporate offices and production operations, along with integration partner facilities, conveniently located throughout North America to provide responsive customer service and support.
KUKA
KUKA is a global automation corporation with sales of around 3.3 billion euro and roughly 14,000 employees. The company is headquartered in Augsburg, Germany. As one of the world's leading suppliers of intelligent automation solutions, KUKA offers customers everything they need from a single source: from robots and cells to fully automated systems and their networking in markets such as automotive, electronics, metal & plastic, consumer goods, e-commerce/retail and healthcare.
Featured Product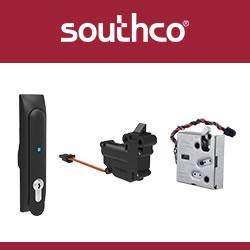 Many robotics engineers need to securely mount and latch sensitive electronic components in their robotics applications; Southco is able to help reduce theft and vandalism with our proven and reliable access technologies. Learn how Southco can help secure your robotics, or other smart city application, from theft and vandalism.