The telescopic Grapple Hook ACR can be integrated within HaiPick System 3, creating a nexus that facilitates higher performance while delivering enhanced storage density.
Hai Robotics ("Hai"), pioneer and leader in Autonomous Case-handling Robot (ACR) Systems, today announced the launch of the world's first telescopic Grapple Hook ACR, the HaiPick A42T-E2, and the HaiPick System 3—two new innovations that address customer concerns around increasing storage density and performance at a smaller warehouse footprint. The telescopic Grapple Hook ACR can be integrated within HaiPick System 3, creating a nexus that facilitates higher performance while delivering enhanced storage density.

The HaiPick A42T-E2—equipped with ChainPick technology—features a grappling hook with a picking speed of 2.7 seconds, quickly pulling totes one after another. Such ChainPick technology is key to enabling up to five-deep tote storage capacity, allowing shorter picking and placing time to further streamline the goods-to-person workflow. Horizontal space in between totes can be slashed by 60%, ensuring no space gap at the back and hence optimizing existing warehouse storage space. Businesses are also offered tailored solutions to scale up or down, allowing them to maintain a competitive edge without compromising on financial agility, while still achieving cost-efficiency.
"Businesses nowadays are struggling to not only optimize their warehouse space, but also strike a balance between automation and leaving room for growth," said Peter Guan, General Manager at Hai Robotics EMEA. "We are thrilled with the launch of the HaiPick A42T-E2. This project encapsulates our commitment to providing intelligent, flexible and efficient solutions for the modern warehousing industry, while keeping in mind the growing and dynamic needs of this market on a global scale."
The HaiPick System 3, on the other hand, is the latest solution in Hai's portfolio, enabling ultra-high storage density up to 50 totes/㎡ and increasing worker efficiency up to six times. HaiPick System 3 is a highly standardized system incorporating Hai's telescopic Grapple Hook ACRs and Fast-transit K50 autonomous mobile robots (AMR) running at a speed of 4m/s. HaiPick System 3 introduces fast deployment and efficient ACR-AMR collaboration: While ACRs handle totes from the top to the bottom of the racks, AMRs handle rack-bottom totes between racks and workstation swiftly. Additionally, the solution facilitates rack expansion by up to five-deep configuration, by using the telescopic Grapple Hook ACR, with a maximum picking height of up to 10 meters.
"HaiPick System 3 is a high-performance and agile solution that scales alongside businesses to better achieve instantaneous customer satisfaction," added Guan. "Combined with the telescopic Grapple Hook ACR, warehouses will be able to achieve a level of performance efficiency and ROI at new heights in both B2B and B2C operations, such as within 3PL and apparel industries."
Davide Tuzi, Country Manager of Italy at Hai Robotics, will discuss more details in the upcoming episode of HaiPulse webinar. The special edition, scheduled to air on October 20th, at 9:30 AM (CET), will cover an in-depth analysis of these two innovations. Sign up for this webinar here.
About Hai Robotics
Hai Robotics, pioneer and leader in Autonomous Case-handling Robot (ACR) Systems, is committed to providing flexible, intelligent, and efficient warehouse automation solutions through robotics technology and AI algorithms. The HaiPick solution, independently developed in 2015, is the world's first ever ACR solution. Hai Robotics is a global enterprise that has more than 1,000 projects worldwide and serves customers from more than 30 countries and regions. We have offices to cover the United States, Europe, Japan, South Korea, Southeast Asia and Australia. We strive to combine global experience with local expertise to provide our customers with tailored, quality solutions.
To learn more about Hai Robotics, visit https://www.hairobotics.com/.
Featured Product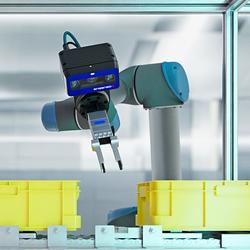 Combining the ease of use of a webcam with the performance and reliability of an industrial camera? The uEye XC autofocus camera from IDS Imaging Development Systems proves that this is possible. Its high-resolution imaging, simple setup and adaptability make it an invaluable tool for improving quality control and streamlining workflows in industrial settings - especially for cases where users would normally employ a webcam. The uEye XC autofocus camera features a 13 MP onsemi sensor and supports two different protocols: USB3 Vision, which enables programmability and customization, and UVC (USB Video Class). The UVC functionality enables a single cable connection for easy setup and commissioning, while delivering high-resolution images and video. This makes the uEye XC camera an ideal option for applications that require quick setup and need to manage variable object distances. Additional features such as digital zoom, automatic white balance and color correction ensure precise detail capture, which is essential for quality control.