Compact drone's upgraded onboard comms system meets the needs of public safety groups; companies showcase tech at Disasters Expo USA in Anaheim
Doodle Labs, a leading datalink provider for mobile robotics and connected teams, has teamed up with Freefly Systems Inc., an American corporation that designs and manufactures the world's toughest drones, to showcase how their technology works together to serve disaster response and other public safety groups.

Earlier this year, Freefly announced a partnership to integrate Doodle Labs' mesh radios into the Freefly Astro UAS platform. Last week in Anaheim, California, Doodle Labs showcased the Astro at Disasters Expo USA a conference and exhibition for disaster preparedness, response, mitigation and recovery specialists.
Astro is Freefly's latest drone platform with high precision RTK/PPK, LTE cloud connectivity, tablet controller, smart batteries, onboard mission computer and more. The platform boasts an open ecosystem of modular payloads with quick release. Astro is designed, tested, flown, built and supported by the Freefly team in Woodinville, WA.
Doodle Labs, who produce industrial-grade wireless networking solutions, are working with Freefly to provide its Mesh Rider Radio as the onboard datalink for Astro. Integrating Doodle Labs' radios will secure long range, high-bandwidth mesh capabilities, a more reliable connection for the drone and new avenues to global deployment.
The Astro's functional flexibility, combined with the long-range, high-bandwidth networking capabilities afforded by the Doodle Labs Mesh Rider Radio, makes it a natural fit to meet the demands of global disaster response groups for search and rescue missions, terrain mapping and scanning and network extension in difficult networking environments while responding to floods, wildfires and earthquakes.
"We knew that partnering with Freefly meant not only contributing to the advancement of powerful UAV technology, but also supporting the public safety groups who rely upon this technology to safely respond to disasters and save lives," said Amol Parikh, VP of Marketing for Doodle Labs."
"It's a point of pride to have a hand in supporting the vital work of disaster response groups," Parikh said.
Mesh Rider Radio makes use of Doodle Labs' proprietary multi-band technology to capably cover up to six frequency bands in a single radio. The radios are available in a variety of band combinations, including 900 MHz + 2.4 GHz for commercial use-cases, several Helix options in federal combinations (M1 - M6, L + S) for defense purposes and the capability to combine licensed and unlicensed bands for dual-use applications.
Development of the Mesh Rider Radio was sponsored in part by the US Department of Defense's Defense Innovation Unit (DIU) and the datalink is fully compliant with DIU's Blue UAS program. Astro is also Blue sUAS List-approved. Both Mesh Rider Radio and Astro are NDAA compliant.
For disaster response groups, this multi-band technology enables responders to quickly and reliably deploy UAVs as part of response efforts despite international regulations around frequency allocation or noisy, crowded RF environments.
About Freefly
Freefly Systems is an American corporation that designs, manufactures, and markets camera movement systems and camera stabilizers used in cinematography including unmanned aerial vehicles for aerial cinematography, gimbals, and remote-controlled vehicles. The company headquarters are in Woodinville, Washington.
About Doodle Labs LLC
Doodle Labs designs and produces industrial-grade wireless networking solutions. The company focuses on mesh networking for robotic systems, providing high throughput, long-range Mesh Rider solutions for UAVs, UGVs, AMRs, connected teams, government/defense, private wireless and other applications. The company's Helix Mesh Rider Radio was developed with sponsorship from DIU and is the Blue UAS program's datalink of choice.
Doodle Labs was founded in 1999 and has offices in the United States and Singapore. For more information, visit http://www.doodlelabs.com
Featured Product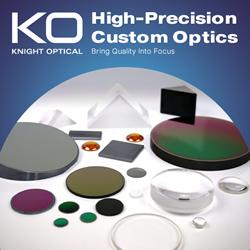 In the era of Industry 4.0, automation and machine learning drive the future. Knight Optical stands at the forefront, collaborating globally to supply precision optical components that power the robotics and automation sector. From UAVs, drones, and robotics to machine vision, LiDAR-driven car sensors, and renewable energy, our optics empower innovation. Optical components play an important role within the industry, including: Optical windows and domes safeguard systems in unmanned vehicles while preserving the field of view for cameras. Infrared lenses with aspheric surfaces elevate thermal imaging. Optical filters excel in machine vision, with colour glass, interference, and dichroic filters in our stock. Knight Optical provides stock components and custom solutions made to your exact specs. With every component undergoing rigorous metrology and QA checks before shipment, you are sure to experience true precision, innovation, and assurance.