Active Silicon announces the first in a new line of high-speed frame grabbers.
The FireBird expands on the hugely successful Phoenix frame grabber range and brings the full capabilities of CoaXPress to the frame grabber market. The FireBird-4xCXP6 PC card is the first frame grabber from Active Silicon in the new FireBird range and uses the latest FPGA families, DDR3 memory, and fast gen 2 PCI Express interface. It provides simultaneous video acquisition from four CoaXPress links, each link supports up to 6.25 Gbps ("CXP-6") whilst simultaneously providing a 20.8 Mbit/sec uplink as well as 13W of power to the camera. For very fast devices, the links can be concatenated to provide multiples of the single coax bandwidth, for example a camera can use 4 links to support 25 Gbps transfer speeds! Very long cable lengths are also supported - up to 40m at 6.25 Gbps and over 100m at 3.125 Gbps.

Drawing on Active Silicon's expertise in multi-operating systems support, the FireBird range will support Windows, Linux, Mac OS X, VxWorks and QNX. Embedded system versions, such as PC/104-Express and XMC cards will follow on next year.
Active Silicon was one of the main authors of the CoaXPress specification which is now a JIIA (Japan Industrial Imaging Association) Standard.
All Active Silicon acquisition solutions are provided with an easy to use, yet comprehensive Software Development Kit which allows integrators to develop applications quickly and simply, together with a range of built-in third-party software drivers for packages such as Common Vision Blox, Streampix, MATLAB and LabVIEW. Support is also provided for DirectShow and QuickTime interfaces. Best of all, customers will have direct access to Active Silicon for vision systems advice, consultancy and systems integration work to ensure a successful completion of end-user applications.
Active Silicon Limited (www.activesilicon.com)
The company, founded in 1988, specializes in the design and manufacture of vision related products and technologies. Today Active Silicon is a leading manufacturer of video acquisition products ("frame grabbers") and embedded vision systems. These products are used in many areas in science and industry, including the areas of manufacturing, scientific research, medical imaging, security and defense and all based on technologies developed and owned in-house.
Featured Product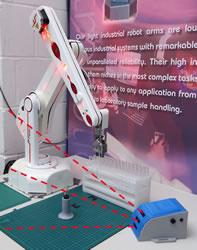 The 6-axis version of the R17HS high speed variant of the R17 robot is now available. As is our policy the 6th axis is an optional bolt-on module. At the same time we have made it even faster and new software eliminates shake and greatly improves repeatability as this video shows. Please see https://www.youtube.com/watch?v=3wG0MeiJ-yE. The video would seem to imply a repeatability of 0.01mm but we are sticking with 0.2mm in the spec. The motor specialist was able to tune the motors from the other side of the pond. My first reaction when we put power on and entered the first commands was to jump back in amazement (and maybe an expletive). Tip speed is now 3m/s; that's 3 times as fast as its nearest competitor yet costs half the price. I love it when a plan comes together.