The X PRIZE Foundation and the LEGO Group today announced MoonBots 2.0: A Google Lunar X PRIZE LEGO® MINDSTORMS® Challenge.
Playa Vista, CA (May 9, 2011) - The X PRIZE Foundation and the LEGO Group today announced MoonBots 2.0: A Google Lunar X PRIZE LEGO® MINDSTORMS® Challenge. This second annual contest will challenge teams of youth to design, program, and construct robots that perform simulated lunar missions similar to those required to win the $30 million Google Lunar X PRIZE, a private race to the Moon designed to enable commercial exploration of space while engaging the global public. To further this purpose, the X PRIZE Foundation and the LEGO Group have partnered with WIRED magazine and FIRST robotics to offer a competition that will excite students and their families about the Moon, robotics, and team building.

"In the MoonBots 2.0 Challenge, students get to produce videos, gain computer programming skills, and learn the latest in technological advances at it relates to space exploration. It is important to inspire this generation with the Google Lunar X PRIZE and help kids understand that Moon exploration is still relevant and exciting," said Chanda Gonzales, Google Lunar X PRIZE Education Manager.
Teams will be asked to submit fun, scientific video clips that talk about space exploration. In addition to the video, each team will be asked to write a proposal explaining why their robot should be funded to go to the moon, similar to the proposals authored by actual Google Lunar X PRIZE teams.
From these submissions, a select group will be chosen as finalists and provided with free LEGO components to construct a large Moonscape that will serve as the competitions 'playing field. Finalists will then design their robot using CAD software, program it, and demonstrate their robot to be judged. Finalist teams will be asked to complete a STEM outreach project to mentor kids to get excited about the MoonBots 2.0 Challenge, a requirement unique to this years contest.
For more than a decade, the LEGO MINDSTORMS robotics toolkits have given children of all ages the best of both the physical and virtual worlds, combining LEGO bricks with state-of-the-art hardware and easy-to-use programming software. LEGO MINDSTORMS empowers users to conceive, build, and program robotic inventions for both play and learning purposes. In just 30 minutes, young robot creators can build and program their first working LEGO robot.
"Our mission is to inspire and develop the builders of tomorrow. It is the youth of today that will form the future society, solving the big issues of today and face the challenges ahead of us. We want to prepare them by encouraging them to pursue science, technology, engineering, and math and combine their imagination and creativity with hard skills to, for example, work on space exploration challenges for the common good of us all," said Steven Canvin of the LEGO Group. "This is where the MoonBots 2.0 Challenge is perfect for getting the 9-17 year olds thinking about the problems associated with lunar exploration, by emulating landing on the Moon by building LEGO MINDSTORMS robots."
Free registration and Phase One of the contest will be open from May 9th through June 13. Phase Two of the contest begins June 27th through August 15th. To learn more about the MoonBots 2.0 Challenge and to find out how to register a team visit http://www.moonbots.org.

For more information about the Google Lunar X PRIZE and the teams currently registered in the competition, please visit http://www.googlelunarxprize.org.
ABOUT THE X PRIZE FOUNDATION
Founded in 1995, the X PRIZE Foundation is the leading non-profit organization solving the worlds greatest challenges through creating and managing large-scale, high-profile, incentivized prize competitions that stimulate investment in research and development worth far more than the prize itself. The organization motivates and inspires brilliant innovators from all disciplines and socio-economic sectors to endow their intellectual and financial capital for the benefit of humanity. The X PRIZE Foundation conducts competitions in four Prize Groups: Education & Global Development; Energy & Environment; Life Sciences; and Exploration. Past prizes include the $10 million Ansari X PRIZE for sending the worlds first private vehicle into space and back; and the $10 million Progressive Insurance Automotive X PRIZE for creating safe, affordable, production-capable vehicles that exceed 100 MPG or energy equivalent (MPGe). Active prizes include the $30 million Google Lunar X PRIZE, the $10 million Archon Genomics X PRIZE, and the $1.4 million Wendy Schmidt Oil Cleanup X CHALLENGE. For more information, visit www.xprize.org.
ABOUT THE GOOGLE LUNAR X PRIZE
The $30 million Google Lunar X PRIZE is an unprecedented international competition that challenges and inspires engineers and entrepreneurs from around the world to develop low-cost methods of robotic space exploration. The $30 million prize purse is segmented into a $20 million Grand Prize, a $5 million Second Prize and $5 million in bonus prizes. To win the Grand Prize, a team must successfully soft land a privately funded spacecraft on the Moon, rove on the lunar surface for a minimum of 500 meters, and transmit a specific set of video, images and data back to the Earth. The Grand Prize is $20 million until December 31st 2012; thereafter it will drop to $15 million until December 31st 2014 at which point the competition will be terminated unless extended by Google and the X PRIZE Foundation. For more information about the Google Lunar X PRIZE, please visit www.googlelunarxprize.org.
ABOUT THE LEGO GROUP
The LEGO Group (www.lego.com) is a privately held, family-owned company based in Billund, Denmark. It was founded in 1932, and today, the group is one of the worlds leading manufacturers of play materials for children, employing approximately 5,600 people globally. The LEGO Group is committed to the development of childrens creative and imaginative abilities. LEGO products can be purchased in more than 130 countries.
ABOUT LEGO MINDSTORMS
In 1998, The LEGO Group spearheaded the consumer robotics category the company with the launch of the LEGO® MINDSTORMS® Robotics Invention System, that introduced children to the world of robotics, and offering the ability to create their own intelligent, interactive, autonomous LEGO robots. The LEGO MINDSTORMS NXT robotics toolkits allow children of all ages to design, build, and program their own robots using LEGO building elements, customized hardware, and an easy-to-use icon-based graphical programming language.
ABOUT WIRED / CONDE NAST
Wired.com is your essential daily guide to what's next, delivering the most original and complete take you'll find anywhere on innovation's impact on technology, science, business and culture. Wired.com's award-winning news reporting, unique commentary, authoritative reviews and practical hands-on tutorials make it the go-to site for thoughtful and comprehensive coverage of innovation's impact on all aspects of our lives. Join 14 million of the smartest readers on the planet. Wired.com is part of the Condé Nast Digital Business Group, comprised of Wired.com, Arstechnica.com, Newyorker.com, Golfdigest.com and Reddit.com.
ABOUT FIRST®
Accomplished inventor Dean Kamen founded FIRST® (For Inspiration and Recognition of Science and Technology) in 1989 to inspire an appreciation of science and technology in young people. Based in Manchester, N.H., FIRST designs accessible, innovative programs to build self-confidence, knowledge, and life skills while motivating young people to pursue opportunities in science, technology, and engineering. With support from three out of every five Fortune 500 companies and close to $15 million in college scholarships, the not-for-profit organization hosts the FIRST® Robotics Competition (FRC® ) and FIRST® Tech Challenge (FTC® ) for high-school students, FIRST® LEGO® League (FLL® ) for 9 to 14-year-olds, (9 to 16-year-olds outside the U.S. and Canada) and Junior FIRST® LEGO® League (Jr.FLL™) for 6 to 9-year-olds. Gracious Professionalism™ is a way of doing things that encourages high-quality work, emphasizes the value of others, and respects individuals and the community. To learn more about FIRST, go to www.usfirst.org. 


FIRST®, the FIRST® logo, FIRST® Robotics Competition, FRC®, FIRST® Tech Challenge, and FTC® are registered trademarks, and Gracious Professionalism™ is a common law trademark of the United States Foundation for Inspiration and Recognition of Science and Technology (FIRST®). LEGO® and MINDSTORMS® are registered trademarks of The LEGO Group. FIRST® LEGO® League, Junior FIRST® LEGO® League, FLL®, BODY FORWARD®, and Jr.FLL™ are jointly held trademarks of FIRST and The LEGO Group.
Featured Product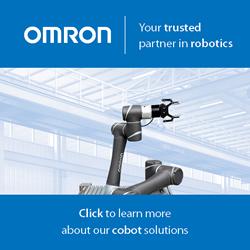 Humans and robots can now share tasks - and this new partnership is on the verge of revolutionizing the production line. Today's drivers like data-driven services, decreasing product lifetimes and the need for product differentiation are putting flexibility paramount, and no technology is better suited to meet these needs than the Omron TM Series Collaborative Robot. With force feedback, collision detection technology and an intuitive, hand-guided teaching mechanism, the TM Series cobot is designed to work in immediate proximity to a human worker and is easier than ever to train on new tasks.