Schneider Packaging Equipment Co., Inc., specializing in end-of-line solutions for case packing and palletizing needs, has appointed two new personnel effective immediately.
Schneider Packaging Equipment Co., Inc., specializing in end-of-line solutions for case packing and palletizing needs, has appointed two new personnel effective immediately.

Mick Gleason, Director of Engineering
He is responsible for engineerings core functional areas as well as research and development. "It was critical that we find an extremely qualified and experienced senior individual to manage these opportunities," says, Rick Schneider, President, Schneider Packaging. "Mick has the technical expertise to serve the needs of our customers and the experience to guide Schneider engineerings newest concepts and approaches for industrial automation."
Mr. Gleason started his career in industrial automation in robotics. With more than 20 years experience, he has led hardware and design engineering projects that provided systems design for complex automation projects. Prior to joining Schneider, he worked with a global provider of air defense, operations management, and data integration and distribution. Mr. Gleason holds several business patents and has a B.S. in Mechanical Engineering from University College, at Syracuse University.
"Schneider Packagings end-of-line packing solutions are inventive and accessible," says Gleason. "Our shared vision of Schneider Packagings future is one of continued leadership and innovation in packaging and automation."
Moira Grimes, Human Resources Manager
Ms. Grimes experience in human resource management spans several industries including, manufacturing, production, and physical therapy. During her career, she has developed expertise in HR performance management; recruitment and employee relations; lifecycle staffing and retention; and payroll and benefits administration.
"Moiras experience and skills are a perfect fit for Schneider and we are very pleased to welcome her to our growing team," says Rick Schneider, President, Schneider Packaging.
Ms. Grimes has a B.A. in English from the State University of New York at Albany.
ABOUT SCHNEIDER PACKAGING EQUIPMENT CO., INC.
Schneider manufactures a complete line of robotic palletizing, case packers, tray packers, specialty cartoning systems and completely integrated packaging solutions. Schneider is FANUC Robotics largest integrator for palletizing and case packing in North America. Additionally, Schneider offers a variety of ancillary equipment such as case erectors, cartoners, conveyors, pallet dispensers, shuttle cars, automatic guided carts, and elevators that can easily be integrated with coding/labeling equipment, RFID / barcode scanners, weight checking, and stretch or shrink wrapping equipment to provide a complete turnkey system solution. Some specialty markets include food, beverage, industrial, tissue, paper, personal care, pharmaceutical, and replication industries.
Whatever the requirements, Schneider works to provide the best solution for any unique need. Schneider Packaging is a Certified Servicing Integrator, Authorized System Integrator, Certified Vision Specialist, and Strategic Market Specialist for FANUC Robotics as well as a Machine Builder partner in the Rockwell Automation PartnerNetwork™ program.
Featured Product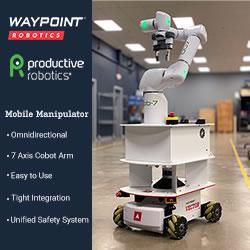 Waypoint Robotics/Productive Robotics omnidirectional 7 DoF mobile manipulator combines the easiest to use, most capable omnidirectional autonomous mobile robot with the simplest and most flexible 7 axis collaborative robot arm. The Vector AMR's omnidirectional mobility enables fast, precise docking in any direction or orientation so the OB7 can perform accurate and precise grasping or picking tasks, taking full advantage of the cobots' 7 degrees of freedom (7 DoF) and superior dexterity. It can be powered using Waypoint's EnZone wireless charger that provides on-demand energy and opportunity charging for longer run times. Workers can use this mobile platform to perform repetitive tasks such as machine tending, quality assurance sampling, material replenishment, packaging, and many others, so they can focus on the high skilled jobs for which they are uniquely qualified. It has never been easier or more cost effective to deploy a mobile manipulator for manufacturing and logistics applications.