IERA is a co-sponsored activity between the International Federation of Robotics and the IEEE Robotics and Automation Society.
Shanghai, May 9, 2011 - The 7th annual Invention and Entrepreneurship Award in Robotics and Automation (IERA) was presented to Bruno Maisonnier, CEO of Aldebaran Robotics for development of the Humanoid Robot NAO.

IERA is a co-sponsored activity between the International Federation of Robotics and the IEEE Robotics and Automation Society.
The award was judged at the IERA Industry Forum which was hosted by the IEEE Robotics and Automation Society and the International Federation of Robotics in conjunction with the 2011 IEEE International Conference on Robotics & Automation on May 9, 2011 at the Shanghai International Conference Centre.
The Judging Panel included IEEE Members, Erwin Prassler, Raj Madhavan and Alex Zelinsky and IFR Members, Chunyuan Gu, Shinsuke Sakakibara, Rolf-Dieter Schraft and Rainer Bischoff.
The review panel evaluated 8 Excellent Submissions from which four Finalists were selected.
* Bruno Maisonnier, Aldebaran Robotics, NAO - Humanoid Robot
* Karl-Erik Neumann, Exechon AB, Parallel Kinematic Machines
* Maarja Kruusmaa, Fits.me, Shape changing Robotic Mannequin
* Seung-Min Baek, LG Electronics, Hom-Bot - Smart Vacuum-Cleaning Robot
The finalists each gave a presentation of their innovations and entrepreneurial achievements to the high-expert audience participating in the Forum. After their presentations, the judging panel selected the winner based on published selection criteria covering;
- Description of the innovation/ product/ application
- Current Stage of product genesis
- Novelty /uniqueness of the product
- Market analysis, economic viability and pathway for commercialization
- Sustained competitive advantage
- Current and future impact on and relevance to industry
The judging panel selected Aldebaran's Maisonnier in a unanimous decision. The award was presented by IFR President Dr. Shinsuke Sakakibara.
Maisonnier, the founder and CEO of Aldebaran, launched the company in 2004 after spending more than a year laying the groundwork to build what he described as "an affordable, reliable robot which could be used to help people." The current version of NAO sells at between €3,000 and €12,000, considerably less than most other research robots and it comes with a substantial package of applications and the possibility of programming more.
At ICRA 2011 the company announced its decision to share a significant part of its source code with the research and developer community by the end of 2011.
One of Maisonniers plans is to create an 'app store and enabling the robot to download its own new apps. The company currently has 125 employees, the majority in France with 8 based in Boston, 10 in Shanghai and one in Osaka.
Dr. Sakakibara said that all the finalists presented fine examples of excellent innovations and demonstrated significant entrepreneurial excellence. He described Maisonniers company, Aldebaran Robotics, as an exciting new company with a new game changing technology. The NAO is a break-through humanoid robot that is expected to be applied in a wide range of fields such as rehabilitation support, support for disabled people, telepresence, and helping autistic children develop communications skills as well as in the entertainment industry. Aldebaran has managed to attract substantial investment capital in France, with plans to continue to expand internationally.
This year, the IERA Award was awarded for the 7th time. Previous winners are:
* 2005 Joe Jones, (i-Robot, USA), Roomba vacuum cleaner robot
* 2006 Rainer Bischoff (KUKA Roboter, Germany), collision-avoiding industrial robots
* 2007 Hugh Durrant-Whyte (Patrick Technologies, Australia), port automation robotic systems
* 2008 joint-winners
o Mick Mountz, Pete Wurman and Raffaello DAndrea (Kiva Systems, USA), cooperating mobile robots for logistics
o Thomas Brandstetter, Dieter Steegmueller and Michael Zuern (Daimler, Germany), cooperating stationary industrial robots used for assembly
* 2009 Yoshiyuki Sankai, (Cyberdyne Inc., Japan), Robot Suit HAL
* 2010 Alexander Verl, (Fraunhofer IPA, Germany), Inline Measurement Robots
IERA12 will be hosted by IFR and IEEE-RAS at the 2012 International Symposium on Robotics (ISR 2012), August 29-31, Taipei.
Featured Product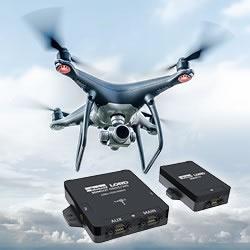 The new complete inertial navigation solution comes with GNSS/INS 3DMGQ7 sensor, 3DMRTK correction modem and real time SensorCloud RTK correction network. The sensor comes with Dual antenna GNSS, tactical grade IMU with centimeter-level accuracy with RTK. Low profile and light weight at 78 grams, this sensor is The sensor is optimized for size and weight in Unmanned Ground Vehicles, mobile robots and autonomous vehicles. The network interface 3DMRTK modem is seamlessly integrated into the 3DMGQ7 sensor supports industry-standard NMEA and RTCM 3.1 protocols. The network RTK support comes with cellular data plan. The SensorCloud RTK is a cloud-based RTK correction system with private encrypted data stream. Check out our G Series and C Series OEM products.