Names Former Sun Microsystems Executive Bill Vass as CEO
SUNNYVALE, CA AND KAMUELA, HI - JUNE 7, 2011 - Liquid Robotics®, developer of the award-winning Wave Glider® self-powered hybrid sea-surface/underwater robotic vehicle, and cloud-based data service provider, has closed a Series D $22 million financing round led by VantagePoint Capital Partners, the companys first institutional investor, together with participation by oilfield services provider Schlumberger. The company has additionally announced the appointment of Bill Vass, former President and COO, Sun Microsystems Federal, as Chief Executive Officer.

Liquid Robotics has created an exciting new category of wave-powered marine robotic vehicles with a state-of-the-art, revolutionary and flexible platform for ocean observation, data collection, intelligence, surveillance and reconnaissance. The companys flagship product, the Wave Glider, is a reliable, persistent and economical autonomous marine drone that has the capability of efficiently completing demanding long-duration missions with minimal environmental impact. In addition to providing Wave Gliders as a product, Liquid Robotics has also set up a Data-as-a-Service cloud which provides direct, realtime access to ocean information.
With his appointment, Bill Vass brings more than 30 years of U.S. government and private sector IT leadership experience to Liquid Robotics. Prior to joining Sun and serving in a number of senior-level positions including Chief Information Officer, Vass had a lengthy public service career. He worked in the Office of the Secretary of Defense at the Pentagon, and was Chief Technology Officer and technical lead for U.S. Army worldwide personnel systems. Earlier, Vass developed large-scale IT engineering and business systems solutions for the oil and gas industry, defense systems integrators and ocean engineering.
"We are fortunate to add an experienced executive like Bill Vass and a leading global energy investor such as VantagePoint to our team," said Roger Hine, Liquid Robotics Founder and Chief Technology Officer. "This important hire and significant round of financing allows us to further develop and market our unconventional technology for exploring and monitoring the worlds marine environment."
Currently in long-term, rigorous deployment around the globe, Wave Gliders are being used for scientific research by the National Ocean and Atmospheric Administration and several premier oceanographic facilities such as the Woods Hole Oceanographic Institution, the Monterey Bay Aquarium Research Institute, Scripps Institution of Oceanography and the University of Hawaii. The craft are also being deployed for commercial operations such as in offshore oil and gas exploration, and for a variety of national security uses.
The Wave Glider is a versatile and autonomous satellite-controlled and self-powered robotic vehicle which consists of a durable surface craft and an ingenious submerged glider with wing-shaped panels. The multi-patented design uniquely converts the up-anddown motion of waves into forward thrust, making it possible to accurately propel the craft indefinitely without relying on batteries or other power sources. The Wave Gliders can travel to a distant area, collect and transmit data in real time, and then return for maintenance without ever requiring a ship to leave port. The results are tremendous cost savings, emissions reductions, and increased capabilities for a wide range of customers.
"Thanks to Liquid Robotics breakthrough wave-power technology and cloud-based data services, we can now record wide-ranging, long-term oceanic and atmospheric observations in real time, and unleash capabilities in a way never before possible," said Alan Salzman, CEO and Managing Partner at VantagePoint Capital Partners. "We look forward to working with the Liquid Robotics team to develop strategic partnerships and explore new global markets for the Wave Glider and other products." Salzman has taken a seat on the Liquid Robotics board of directors.
About Liquid Robotics
Liquid Robotics, Inc. offers cloud-based data services for ocean information and manufactures revolutionary wave-powered autonomous vehicles that function as persistent, versatile and sustainable platforms for scientific, industrial and government payloads. Based in Silicon Valley and Hawaii, the companys flagship product, the cutting-edge Wave Glider®, enables dozens of applications and missions never before attainable. Liquid Robotics is poised to capture an exciting, newly created category in the marine technology market, bringing the innovation and entrepreneurial spirit of Silicon Valley to the ocean science and technology sector. For more information, visit www.liquidr.com.
About VantagePoint Capital Partners
VantagePoint Capital Partners is the leading global investor in energy innovation and efficiency. With a best-in-class investment team of business and scientific experts, a broad network of corporate Strategic Partners, accomplished Senior Advisors, and more than $4.5 billion in committed capital, the Firm has the resources and talent to build important, industry-leading companies. Headquartered in Silicon Valley with offices in London, Hong Kong, Beijing and Shanghai, VantagePoint has active investments in over 70 companies, including award-winning energy innovation leaders BrightSource Energy, Bridgelux, MiaSol©, Serious Materials, Switch Lighting, Solazyme, Ostara Nutrient Recovery Technologies, Tesla Motors, Trilliant, Tendril and Better Place. For more information, visit www.vpcp.com.
Featured Product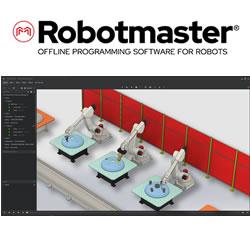 Program multi-robot cells and automatically solve robotic errors with ease. Hypertherm Associates announces a new version to its robotic programming software. Robotmaster 2024 addresses key market trends including the support for programming multiple robots in a single work cell and the demand for automatic trajectory optimization and robotic error correction.