Study Presented at Annual American Urological Association Meeting Coincides With Decrease Prostate Cancer Incidence In United States
NEW YORK, June 8, 2011 /PRNewswire/ -- The rapid adoption of robotic prostatectomy in the US is leading more men to choose surgery as their primary treatment for prostate cancer, according to a study presented at the annual American Urological Association meeting and co-authored by Dr. David Samadi. Interestingly, this finding occurred amid a national decrease in prostate cancer incidence. "This means that more surgeons and hospitals are adopting robotic surgery technology and more patients are readily embracing it above other prostate cancer treatment options," explained Dr. Samadi, Vice Chairman, Department of Urology, and Chief of Robotics and Minimally Invasive Surgery at The Mount Sinai Medical Center in New York City.

(Photo: http://photos.prnewswire.com/prnh/20110608/NY16487 )
The data showed that with the rapid adoption of robotic-assisted laparoscopic prostatectomy (RALP), prostatectomy volume in the United States increased by almost 50% from 2005 to 2008 after remaining unchanged from 1997 to 2004. RALP made up 15% of all prostatectomies in 2004 and increased to more than 80% in 2008. The study co-authored by Dr. Samadi coincides with research from other institutions concluding that men are more likely to have prostate cancer surgery as hospitals adopt robotic technology.
While urologists across the country have been utilizing this new technology in greater numbers, some have expressed concern. "Some believe that while new technology may increase surgical volume, it may not be enough to compensate for the costs," said Dr. Samadi. "Curing patients of their cancer should be the main focus of technological advancement. Robotic technology has been shown to produce better sexual and urinary functional outcomes, shorter hospital stays, and minimal blood loss. With any new technology a reduction in cost comes with time, and I expect robotic surgery to be no different."
While he remains among the most respected robotic surgeons in the country, Dr. Samadi's primary goal is to deliver individualized care to each of his patients. "I believe it's better to remove the cancer completely from the patient's body but if the clinical picture points to another treatment option, I certainly don't hesitate to recommend the best course of treatment for them," says Samadi. "Prostate cancer truly is a silent killer. It can be devastating to all those affected, including a patient's family and friends. So instead of living with it and hoping for the best, my professional instinct is to get rid of it once and for all and start enjoying your life again."
Watch Dr. Samadi's interviews on FOX-NEWS and FOX-NY's Good Day New York:
Featured Product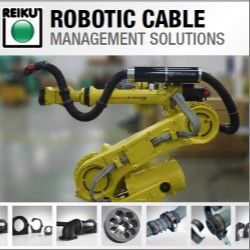 REIKU's Cable Saver™ Solution eliminates downtime, loss of revenue, expensive cable and hose replacement costs, maintenance labor costs. It's available in three sizes 36, 52 and 70 mm. All of the robots cables and hoses are protected when routed through the Cable Saver™ corrugated tubing.The Cable Saver™ uses a spring retraction system housed inside the Energy Tube™ to keep this service loop out of harms way in safe location at the rear of the Robot when not required. The Cable Saver™ is a COMPLETE solution for any make or model of robot. It installs quickly-on either side of the robot and has been tested to resist over 15 million repetitive cycles. REIKU is committed to providing the most modular, effective options for ensuring your robotic components operate without downtime due to cable management. www.CableSaver.com