Rental option offers unparalleled seasonal flexibility to eCommerce operations
Jun. 14, 2011 (Business Wire) - Kiva Systems, a developer of game-changing mobile-robotic solutions that automate order fulfillment and distribution operations, today announced the availability of its new Kiva Robot Rental Program. The program is ideal for businesses with high peak or seasonal demand such as retail, Internet retail and other specialty industries. The Kiva Robot Rental Program is being introduced publicly at the Internet Retailer Conference and Exhibit 2011 tradeshow in San Diego, Calif.

Historically, retailers with high seasonal peaks have been reluctant to automate order fulfillment operations because the lack of flexibility inherent with traditional automation forces them to overspend on equipment that sits idle most of the year. As a result, the capital equipment equation does not often make sense for seasonal businesses. The most common remedy is to use temporary labor, which often jeopardizes order accuracy and customer care during the most critical season. The Kiva Robot Rental Program solves one of the largest eCommerce challenges that fulfillment center (FC) managers face in today's unpredictable market: how to run a cost-effective operation that easily scales up and down to accommodate seasonal processing without sacrificing speed, accuracy or customer service.
Kiva uses fleets of mobile-robotic drive units that bring inventory on mobile shelves directly to workers, enabling worker productivity that is two to four times higher than other automated systems. Because all system components are completely mobile and modular, Kiva is the only solution able to offer a rental program, allowing Internet retailers to bring in additional robotic drive units during peak season, and then scale back quickly and easily without any disruption to on-going operations.
The program is designed to support buildings that experience extended peak-to-mean surges in excess of 3:1. With the required storage, workstation and charging infrastructure in place, eligible sites can double their drive unit fleet for the peak period much the way they hire temporary seasonal workers today. For example, an FC will typically first scale from 16-hour, 5-day-a-week fulfillment to 24-hour, 7-day-a-week operations, allowing it to more than double the output. However, with the Kiva rental program, that same retailer can now also add up to 100 percent of its existing Kiva fleet, doubling hourly order capacity yet again.
"At Kiva, we recognized a real need in the eCommerce market for a solution that could meet the seasonal fulfillment spikes of Internet retailers by temporarily scaling up and then back down without any operational disruption," said Mick Mountz, CEO and founder of Kiva Systems. "We are the only company with an automation approach that is flexible enough to support a practical and cost effective rental program. Our Robot Rental Program gives FC managers the peace of mind that they can buy only what they need for typical operations, knowing that they can easily add capacity for a temporary jump in demand."
"This is an ideal solution for Internet retailers with high peaks and unpredictable growth profiles because it requires less capital expenditure upfront," he added.
About Kiva Systems
Kiva Systems, Inc. offers game-changing automation solutions for distribution centers that help companies simplify operations and reduce costs while increasing strategic flexibility. Using hundreds of autonomous mobile robots and sophisticated control software, the Kiva Mobile Fulfillment System enables extremely fast cycle times with reduced labor requirements, from receiving to order picking to shipping-all without conveyor. The result is a building that is quick and low-cost to set up, inexpensive to operate, and easy to change. For more information on Kiva Systems and its solutions, please visit www.kivasystems.com.
Featured Product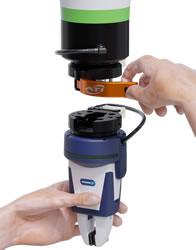 Simpler, stronger, and more precise. ATI Industrial Automation has developed a series of Manual Tool Changers that provides a cost-effective solution for quickly changing tools by hand. They feature a unique design that combines high strength, excellent repeatability, and a patent-pending screw-cam locking mechanism with multiple fail-safe features, which resists vibration and prevents loosening. These robust and compact Manual Tool Changers can handle payloads up to 80 pounds (36 kg) and pass pneumatics and electrical signals.