Executive-level conference to focus on cutting-edge technologies and commercialization strategies
FRAMINGHAM, Mass., June 14, 2011 /PRNewswire/ -- Robotics Trends today announced that registration is now open for the RoboBusiness 2011 Leadership Summit (formerly RoboBusiness Conference & Exposition). Now in its 7th year, RoboBusiness 2011 Leadership Summit is an international executive-level business development event for technology innovators, management and developers of robotics companies, investors, and specifiers and users of robotics products. The RoboBusiness Leadership Summit will take place November 2-3, 2011, at the Sheraton Boston Hotel, Boston, Massachusetts. For more information and to register visit www.robobusiness.com.

"Robots are in the our lives every day, in medicine, the military, search and rescue, and soon home healthcare. The stage is set for this industry to take off," states Michael Siggins, managing director, Robotics Trends. "With the RoboBusiness conference tracks revolving around cutting-edge technologies and the business strategies needed to commercialize them, RoboBusiness is the one event every business and technology executive needs to attend this year."
The RoboBusiness Leadership Summit conference program includes:
* Key updates on the technologies driving robotics development;
* Business strategies and ideas on managing a successful robotics company;
* Financing and investment options and opportunities;
* Industry trends on major markets, including:
o Consumer
o Industrial
o Education
o Healthcare
"RoboBusiness is all about making connections," states Rich Erb, Robotics Trends business director. "RoboBusiness is an international melting pot bringing together the top players of the robotics and intelligent systems industries, exciting new startups, academia, the investment community, OEMs, and distributors."
Current sponsors of the RoboBusiness Leadership Summit include: iRobot, VEX Robotics, Inc., Advanced Motion Controls, Jetta Company Ltd., MICROMO, SRI International, and Yost Engineering, Inc.
For sponsorship opportunities, contact Rich Erb at rerb@ehpub.com or 508-663-1500 x331.
For more information and to register to attend visit www.robobusiness.com.
ABOUT ROBOTICS TRENDS
Robotics Trends, a division of EH Publishing Inc., is the worlds first integrated media company serving the burgeoning personal, service and mobile robotics marketplace. Robotics Trends serves its audience through two major business divisions:
* Robotics Trends Publishing, which produces Robotics Trends (www.roboticstrends.com), an online news and information site focused on technology trends for people who build, buy, and seek to understand the personal, service, mobile, and military robotics markets; and
* Robotics Trends Events, which produces the RoboBusiness Leadership Summit (www.robobusiness.com), and the Robotics Trends Summit Virtual Conference Series (www.robovirtualevents.com).
Featured Product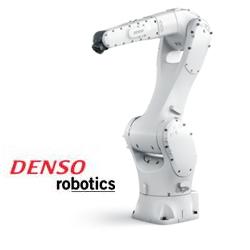 The new VMB series represent some of the newest members to our 6-axis family of robots. These high-performance, versatile units offer a longer arm reach and a higher load capacity than traditional models which make VMB an excellent solution for palletizing, packaging, and material handling. New features include greater air piping, valve and signal line options, as well as new programming options with state-of-the-art functions using our new WINCAPS Plus software. VMB offers an IP67 protection grade along with meeting ISO Class 5, which makes them suitable for electric parts, food manufacturing processes, and pharmaceutical and medical devices. With the addition of the new VMB large robots, all manufacturing processes can now be automated by DENSO Robotics.