Health Robotics today announced FY2010 audited results, delivering once again record levels of revenues and gross margins. Revenues in FY2010 were €10.7 million ($15M), a 21% increase year-over-year as Health Robotics continued to dominate IV Automation by winning 100% of all IV Robots' globally announced purchase decisions in 2010. Gross Margins in FY2010 were €6.9 million ($10M), a 20% increase year-over-year related to the greater number of units installed.

"Health Robotics' decision to stand-by its North American customers, in the face of the intimidation attempts by some USA-based companies has turned out to be successful after all. While we had no choice but to accept an impact to short-term earnings as a result of our long-term-driven decisions, Health Robotics has been vindicated both by the dismissal of two unfounded legal cases[1] and more importantly, the company's leadership position in North America, which will become more obvious when we release in approximately two weeks time the excellent results of the company's North American operations for the first half of 2011", stated Gaspar DeViedma, Health Robotics' Executive Vice President. For a summary video, please click: http://www.health-robotics.com/en/about-health-robotics/
Operating Expenses in FY2010 were €4.3 million ($6M), a 42% increase year-over-year as a direct consequence of the company's increased reliance on its own engineers versus outsourced service channels. EBITDA in FY2010 were €2.5 million ($3.5M), a 6% decrease year-over-year, attributable to the company's completed takeover of manufacturing operations after it decided not to renew its engineering contract with Loccioni Group. Net Profits including extraordinary items were €0.5 million ($0.7M), a 66% decrease year-over-year. Excluding extraordinary items, Net Profits in FY2010 were €1.3 million ($2M), a 28% decrease year-over-year. Decreases in Earnings were directly linked to short-term trends associated with the company's legal expenses in defending (and winning) groundless lawsuits, and the company's increased hiring of core competencies' staff.
Mr. DeViedma concluded: "Additionally, Health Robotics reached many other important milestones during FY2010, which would have been impossible without the outstanding support of our global network of loyal partners, particularly Grifols, Rivosem, and Tosho, and the expanded engineering staff under the direction of our new CTO Mr. Fioravanti. Amongst the FY2010 highlights include: a) the release of i.v.STATION, i.v.SOFT Assist, and Tele-Pharmacy (Profile); b) the global expansion reaching 30+ countries and 6 continents; c) exceeding 100 installations; d) the award by SGS (Societe General de Surveillance) of the ISO certification for quality; e) achieving manufacturing independence from Loccioni Group; and f) the re-acquisition of European CytoCare rights from B. Braun."
Health Robotics GmbH/S.r.l. (Fiscal Code 02493250217)
AUDITED STATEMENT OF EARNINGS (Euro EUR '000)
2010 2009 EUR Increment % Increment
---------- ---------- ----------- -------
Revenues EUR10.737 EUR8.858 EUR1,879 21%
Cost of Goods Sold EUR3.885 EUR3.136 EUR749 24%
Gross Margin EUR6.851 EUR5.721 EUR1.130 20%
----------- --------- ---------- ------
GM% 64% 65%
Operating Expenses
Salaries EUR1.280 EUR869 EUR411 47%
Other EUR3.078 EUR2.190 EUR888 41%
----------- --------- ---------- ------
Total Operating
Expenses EUR4.358 EUR3.059 EUR1.299 42%
EBIDTA EUR2.494 EUR2.663 (EUR169) (6%)
----------- --------- ---------- ------
EBIDTA % 23% 30%
Depreciation EUR137 EUR28 EUR109 390%
Amortization EUR593 EUR117 EUR476 408%
Interest/Currency
Exchange (EUR165) EUR72 (EUR236) (330%)
Income Taxes EUR285 EUR755 (EUR470) (62%)
Profit before
One-Time Items[1] EUR1.314 EUR1.835 (EUR520) (28%)
Profit % before
One-Time Items 12% 21%
----------- --------- ---------- ------
Extraordinary
(One-Time) Items EUR819 EUR389 EUR429 110%
----------- --------- ---------- ------
Net Earnings EUR496 EUR1.446 (EUR950) (66%)
======== ======== ======== =====
NET PROFIT % 5% 16%
About Health Robotics:
Founded in 2006, Health Robotics is the undisputed global leading supplier of life-critical intravenous medication robots, providing over 180 hospital installations in 6 continents with robotics-based technology and software automation solutions deployed utilizing virtual high-availability technology. Its world-leading solutions CytoCare® and i.v.STATION® ONCO [hazardous IVs], i.v.STATION® [non-hazardous IVs], i.v.SOFT® [workflow engine for manual compounding], MEDarchiver® [life-critical clinical information system], and TPNstation™ [totally-automated parenteral nutrition] have and will greatly contribute to ease hospitals' growing pressures to improve patient safety, increase throughput and contain costs. Through the effective and efficient production of sterile, accurate, tamper-evident and ready-to-administer IVs, Health Robotics' solutions help hospitals eliminate life-threatening drug and diluent exchange errors, decrease other medical mistakes and sterility risks, work more efficiently, reduce waste and controlled substances' diversion, and diminish the gap between rising patient volume/acuity and scarce medical, nursing, and pharmacy staff. For more information, please visit: http://www.health-robotics.com
1. One-Time Items represent legal expenses in connection with two baseless legal cases brought by ex-distributor Devon Robotics in the USA (Nevada and Michigan) that have already been dismissed in favor of Health Robotics and/or its officers, plus two other lawsuits, equally without merit, that the company expects to similarly win dismissal in it or its officers' favor during 2011.
Featured Product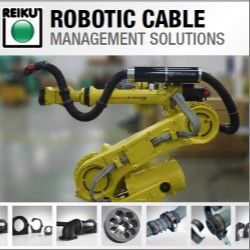 REIKU's Cable Saver™ Solution eliminates downtime, loss of revenue, expensive cable and hose replacement costs, maintenance labor costs. It's available in three sizes 36, 52 and 70 mm. All of the robots cables and hoses are protected when routed through the Cable Saver™ corrugated tubing.The Cable Saver™ uses a spring retraction system housed inside the Energy Tube™ to keep this service loop out of harms way in safe location at the rear of the Robot when not required. The Cable Saver™ is a COMPLETE solution for any make or model of robot. It installs quickly-on either side of the robot and has been tested to resist over 15 million repetitive cycles. REIKU is committed to providing the most modular, effective options for ensuring your robotic components operate without downtime due to cable management. www.CableSaver.com