Flexible automation solutions at GIFA
Düsseldorf/Augsburg, June 2011 - At GIFA 2011, starting on 28 June, KUKA Roboter GmbH is presenting the new QUANTEC product generation, the KUKA.WorkVisual software platform and the KR C4 robot controller, which is set to simplify automation in the foundry industry significantly. Trade fair visitors can experience the world premiere of the foundry variants of the QUANTEC robot series at Booth A39 in Hall 17.

From automotive plants to steel mills, foundries and forge shops: KUKA robots, characterized by their high availability, flexibly perform a wide range of tasks that are typical of the harsh conditions of a foundry environment. The use of industrial robots is synonymous here with high reproducibility and the prevention of fluctuations in quality. Foundry environments are often hot and dirty. Equipped with special protective packages, robots effortlessly withstand heat, humidity, sand and cleaning agents. This makes them the ideal alternative, particularly for tough tasks that are arduous for human workers. In brief: KUKA robots ensure a decisive leap in quality.
Simply compact: the QUANTEC robot series
The new QUANTEC robot series is the first robot family to cover the entire high payload range from 90 to 300 kg with reaches of up to 3,100 mm. A precisely harmonized range of 15 robot types makes it possible to determine the exact robot model that is best-suited to the required motion profile. At GIFA, KUKA will be unveiling the foundry variants KR 120 R3900 ultra K-F, KR 210 R3100 F ultra and KR 180 R2500 F extra - all three have been specially developed for environments with a high degree of fouling and high temperatures.
Simply safe: KR C4 - the control system of the future
The new KR C4 controller features a ground-breaking, clearly-structured and easy-to-understand system architecture that concentrates on powerful open data standards. In this architecture, all integrated control modules have a joint database and infrastructure which they use and share intelligently, and communicate directly with one another.
Networking: robot - system partner - human operator
How do you integrate two automatic assembly lines for core packages in a minimum of space in an existing foundry shop? And at the same time how do you go about automating an existing line that is already highly compact? KUKA Key Technology Management solves these problems efficiently and reliably with recourse to a broad network of system partners. The objective is to offer an optimal combination of the high payload capacity and small footprint of the compact jointed-arm robots and to integrate them into an existing shop layout. This creates solutions that are tailored to the specific requirements of the customer.
Core tasks of robots are the loading and unloading of die-casting machines and the precise handling of hot, heavy forged parts. Human-machine cooperation is of immense importance in foundry environments, as machines work here shoulder to shoulder with their human colleagues. With its "Safe Robot" technology, KUKA offers both parties the teamwork that is required to ensure safety and efficiency in a foundry setting. Time pressure and time savings mean that ever more robots share tasks. As a result, there is increasing demand for a higher degree of automation with ever more robotic functions...
Featured Product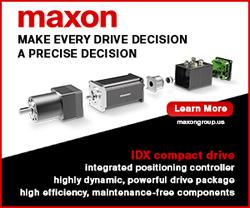 The compact brushless EC-i motor combined with an EPOS4 positioning controller delivers a highly dynamic, powerful drive package with field-oriented control (FOC), high efficiency, and maintenance-free components in a high-quality industrial housing. The maxon IDX drives are suitable for use across the entire speed range (from standstill to maximum speed) and have an extremely high overload capability. Together with a positioning controller, the integrated sensor (single turn) enables absolute positioning.