Program ranks among the busiest in the U.S. and serves as a global observation center
Rochester General Hospital's Robotics program, the largest in the region, reached its 4000th case last week. The robust volume of procedures places RGH among the top 3% in the nation for robotic urological procedures; the top 5% in the nation for performing colorectal procedures with the robotic system.

Dr. John Valvo - Director of Robotic Surgery"This is a truly remarkable milestone for Rochester General Hospital," said John Valvo MD, Director of RGH Robotics Program. "It is testimony to the dedication of a committed administration and an expert staff."
Since the installation of its first daVinci Surgical System in 2004, Rochester General has become one of the nation's elite Robotic Surgery programs, and one of the most diverse, offering high-tech, minimally invasive options for urologic, gynecologic and colorectal cancer treatment. Rochester General is also one of just four "case observation centers" in the world, and draws visiting physicians from around the country who come to observe the latest techniques being pioneered by RGH surgeons.
Rochester General's robotic surgery program features two, state-of-the-art daVinci Robotic Surgery systems, including the latest generation "Streamlined Integration (SI)" HD version, which replaced the original system installed five years ago. The daVinci SI HD system provides:
* Enhanced high-definition 3D vision for superior clinical capability
* An updated user interface for streamlined setup and OR turnover
* Extensibility for digital OR integration
The SI HD is just the latest daVinci system in the RGH lineup. In 2008, Rochester General Hospital became the first location in Upstate New York to implement the daVinci S HD Surgical System, the world's first robotic surgical system with Three-Dimensional, High-Definition vision. This system gives surgeons twice the effective viewing resolution for improved clarity and detail of tissue and critical anatomy and enables them to offer patients minimally invasive procedures - including treatment of conditions as diverse as prostate cancer and hysterectomies - that result in less pain, discomfort, blood loss and a quicker return to normal activities.
The use of robotics takes minimally invasive surgery (MIS) techniques into a new era, further minimizing the physical and emotional impact of surgery on patients. Robotically-assisted MIS represents a third generation of surgery, one which builds upon the advances to open surgery introduced by MIS. Robotic technology takes surgery beyond the limits of the human hand, introducing precise, versatile instrument movement combined with three-dimensional visualization of the operative site. MIS allows physicians to perform many kinds of major surgery - performed through small incisions, which replace the large incisions needed for conventional open surgeries - resulting in less patient trauma and pain.
Benefits of MIS
The benefits of MIS are numerous. Traditional surgery often requires a lengthy hospital stay and weeks of recovery. With minimally invasive surgery, the goal is to accomplish internal repair while leaving the body surface as natural as it was prior to surgery. Minimally invasive surgery, including robotic typically results in the following benefits for patients:
* Smaller incisions and less scarring
* Less bleeding during the procedure
* Less post-operative pain and discomfort
* Shorter hospital stay
* A quicker return to everyday life
Featured Product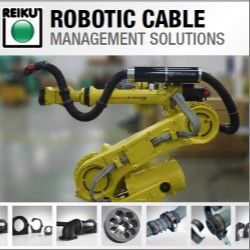 REIKU's Cable Saver™ Solution eliminates downtime, loss of revenue, expensive cable and hose replacement costs, maintenance labor costs. It's available in three sizes 36, 52 and 70 mm. All of the robots cables and hoses are protected when routed through the Cable Saver™ corrugated tubing.The Cable Saver™ uses a spring retraction system housed inside the Energy Tube™ to keep this service loop out of harms way in safe location at the rear of the Robot when not required. The Cable Saver™ is a COMPLETE solution for any make or model of robot. It installs quickly-on either side of the robot and has been tested to resist over 15 million repetitive cycles. REIKU is committed to providing the most modular, effective options for ensuring your robotic components operate without downtime due to cable management. www.CableSaver.com