Facilitates data transfer from webPDM and provides integration with Gerbers AccuMark CAD system and Multiple Productivity Enhancements
TOLLAND, Conn., USA, (May 16, 2011) - Gerber Technology, a business unit of Gerber Scientific, Inc. (NYSE: GRB), announces the release of YuniquePLM™ v4.0 software, the next generation of its product lifecycle management system designed to help brand owners and retailers bring products to market faster. YuniquePLM remains the benchmark for ease of use among PLM systems, delivering an enhanced user interface with personalized home pages, mass edit capability, local language support and the ability to use data and images from Gerbers AccuMark system to populate tech packs in YuniquePLM.

YuniquePLM v4.0 enables the systems home page to be configured according to individual roles and responsibilities using a personal task list and dashboards. This enables users to quickly understand a projects status and visualize what next steps are required. With enhanced local language functionality, users navigate the system in their chosen language.
In addition, the batch and flash edit capabilities and mass find and replace functionality enable users to perform changes across multiple styles or portions of styles simultaneously.
Bill Brewster, president of Gerber Technologys Software Solutions business, said, "We continue to invest and innovate in the YuniquePLM platform to enhance the user experience and to deliver improved collaboration for our users at every point. Our system is proven to have the highest end user adoption rates because we base our continuous improvement efforts on a combination of industry best practices and cutting edge thinking cultivated by decades of experience in the industry."
YuniquePLM v4.0 also enables users to transfer historical data and images from Gerbers webPDM™ systems and use data and images from Gerbers AccuMark pattern design, grading and marking system to populate tech packs in YuniquePLM. In addition, it provides powerful new measurement and process functionality and makes it even easier to associate images with text to visually communicate instructions to colleagues and supply chain partners.
Elizabeth King, executive director of Software Product Management at Gerber Technology, explains, "With the launch of version 4.0, Gerber has succeeded, once again, in trimming valuable time from the product development process. Now, users can take information, like material yield calculations, directly from their AccuMark CAD system and use it to create tech packs in YuniquePLM. As a result, costing estimates are much more accurate and, by sharing data between AccuMark and YuniquePLM, users minimize errors and redundant work."
With this release and the release of a powerful software conversion tool from Gerber known as Yunify™, existing users of Gerbers webPDM software are able to quickly and accurately transfer their historical data and images into YuniquePLM enabling them to take advantage of the enhanced functionality, mobility, scalability and powerful business intelligence that YuniquePLM offers.
Among other functionality, the release of YuniquePLM 4.0 offers users the ability to:
• Use different measurements for positive and negative tolerances. Oftentimes it may be acceptable for a garment to be a bit large rather than too small or tight.
• Create a base size for grading. Grade using the "relative" grading method. Designate alternate sizes to be the base as required.
• Enter measurements as either imperial or metric. The system calculates the opposite and allows users to toggle between the two.
• Manage multiple pages of the same type such as "before wash" and "after wash" measurements or "construction details" and "packaging details" as well as endless other options.
• Quickly create measurement specs using fractional "hot keys." This reduces data entry time by as much as 50 percent.
• Using the new Process Details structure, combine detailed text with images to illustrate specific processes within your operation.
For more information on YuniquePLM, please visit www.gerbertechnology.com/plmsoftwaresuite.htm.
About Gerber Technology
Gerber Technology is comprised of four businesses that serve distinct market segments. These include the Composites and Automation Solutions group which serves aerospace, fabrication and construction markets with ply cutting, laser templating and laser metrology solutions; the Global Software Solutions business which offers the world's leading product lifecycle management (PLM), product data management (PDM) and CAD automation solutions for the retail, footwear and apparel businesses; the Sewn Products Solutions business which provides textile cutting and spreading systems to apparel and flexible materials manufacturers in all regions of the world; and Gerber Innovations, North Americas only full-line manufacturer of automated cutting hardware for the packaging industry. In all markets, Gerbers solutions significantly improve productivity and reduce costs.
Gerber Technologys world headquarters are located in Tolland, Connecticut, U.S.A. with regional offices, agents and distributors in 129 countries serving nearly 23,000 customers. The company designs and manufactures its products in various locations throughout North America, Europe and Asia. For more information about Gerber Technology, visit us on Twitter, YouTube and LinkedIn.
Established in 1968, Gerber Technology is one of three business units of $458 million Gerber Scientific, Inc. (http://www.gerberscientific.com/) of Tolland, Connecticut. Gerber Scientific is listed on the New York Stock Exchange under the "GRB" symbol.
Featured Product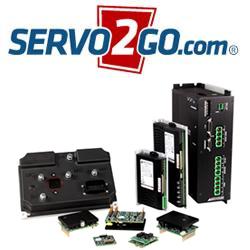 Engineered to drive brushless and brush servomotors in torque, velocity or position mode, Servo2Go.com offers a broad selection of servo drives in a wide range of input voltages and output power levels.