Insituform Technologies announced that CRTS, its subsidiary firm, has entered into a 48.4 million dollar contract with Snamprogetti Saudi Arabia.
The contract requires CRTS to provide robotic coating of the internal field joints for the offshore pipelines of Saudi Aramco. These pipelines would be transporting natural gas from the newly commissioned offshore wells at Hasbah and Arabiyah gas fields.

CRTS would be working on the project along with its local partner, Diversified Lines for Petroleum Services. The robotic internal field joint coating would be provided for the pipelines with diameters ranging from 10" to 36". Initial preparatory work and mobilization for the project is expected to start in July 2011. The ground work for the project includes equipment construction, weld quality control testing and shipping of materials. The coating work is scheduled to begin in the second quarter of 2012 and would take 12 months approximately for completion.
The new offshore wells would together supply 2.5 billion ft 3 of natural gas per day to Saudi Aramco. The natural gas from these wells would be sent to the onshore Wasit gas plant of Saudi Aramco for processing. The President of CRTS regarded the project with Saudi Aramco as top priority and was confident that they would be able to meet their expectations. The senior vice president of Insituform expressed that the contract reiterated CRTS's lead in providing offshore robotic field joint coating technologies and applications and paved the way for their growth in the Energy and Mining sector.
Featured Product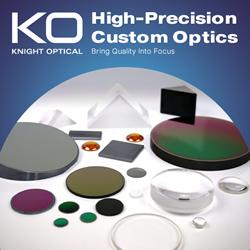 Knight Optical (KO) has provided discerning engineers, designers, and the like from the automation sector with dependable, premium-quality optics for over three decades. Throughout this time, the leading supplier has helped refine the precision of some of the world's most innovative technologies and partnered with a wide range of companies throughout the industry. In this article, Automation talks to KO about its involvement in the sector and, ultimately, finds out more about how the optical brand can help your supply chain process.