Both General Motors and Chrysler have announced an extensive rollout for the replacement of their current computer-aided design(CAD) environment with NX software, specifically NX 7.5, one of the world's leading solutions for digital product development. The automotive supplier base to both of these companies is expected to follow suit in order to comply.
CAM Logic, an award winning and local Siemens PLM business partner, will be presenting two sessions to discuss the migration specifics, demonstrate what's new in NX7.5, and to offer a variety of seamless solutions to any challenges your company may have in regards to the migration. The sessions will be held on Tuesday August 9th at the Automation Alley Technology Atrium in Troy.

The morning session (9 am-11 am) is for General Motors Suppliers and will discuss GM migration specifics, an NX 7.5 product demonstration, NX5 to NX 7.5 upgrade options and other solutions.
The afternoon session (1 pm-330pm) is for Chrysler Suppliers and will discuss the same topics listed above but in context to Chrysler. This session will also discuss Teamcenter Connectivity.
For additional information or to register for any of the above event, visit the CAM Logic Web site at http://www.camlogic.com/news-events/upcoming-events or please contact us at (248) 969-9201.
About CAM Logic
CAM Logic is a leading provider of Product Lifecycle Management (PLM) solutions, 3D scanning and rapid prototyping technologies and services to help companies design and build better products, improve processes, reduce costs and maximize profitability. We provide unparalleled 3D engineering technological software solutions along with the services and support to ensure our clients success.
At CAM Logic, we leverage over 16 years of CAD/CAM/CAE expertise, world-class software partnerships, cutting-edge hardware products and a fervent focus on understanding our clients processes, needs, methodologies, and unique challenges-in order to provide real solutions and the technical edge needed in todays competitive environment. We strive to be your Engineering Technology "Partner" and look forward to the opportunity. For more information, please visit www.camlogic.com
Featured Product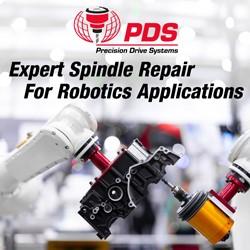 Precision components machined by CNC robot machining systems require compact, lightweight, and high-speed motorized spindles capable of delivering higher efficiency, performance, and reliability than those used in many other industries. That's why manufacturers of milling, cutting, trimming, grinding, polishing, and deburring trust Precision Drive Systems (PDS) to provide accurate and dependable spindle repair to perform to the most exacting standards.