Energy efficient link system is more stable and accurate than roller chain
Auburn Hills, Mich., July 15, 2011 - DE-STA-CO, a worldwide leader in robotic tooling, workholding and flexible industrial automation solutions, announces the release of a new product: the CAMCO® Rite-Link conveyor.

Rite-Links slim, compact design features narrow links, (30.4 mm wide) with 75 mm, 115 mm, or 150 mm pitches. There are five standard center distances available or a custom one can be provided, assembled, and tested for the customers particular industrial or medical application, and can be used in either an over/under or carousel configuration.
The energy efficient Rite-Link requires no lubrication, so it is virtually maintenance free. Built with lightweight components, it runs quietly, even at higher operating speeds.
"Rite-Link is the perfect fit for manufacturers that have been looking for a cost-effective conveying solution that is more accurate and stable than roller chain," said Lou Wozniak, Product Manager for DE-STA-CO. "Its easy to install and integrate into any shop environment, and lends itself to flexible indexing with CAMCO®s precision 115RSD rotary servo drive, or a customers standard servo and planetary drive."
About DE-STA-CO
DE-STA-CO is a global automation and workholding company, providing productivity solutions for the industry since 1915. Quality, innovation, and service have made DE-STA-CO a leader in the design and manufacture of cost reducing, flexible automation solutions for industrial customers around the world.
The company is committed to the Team DE-STA-CO philosophy, a progressive approach to doing business that focuses on providing consistent, standard-setting service and products to every customer, regardless of geographic location.
Featured Product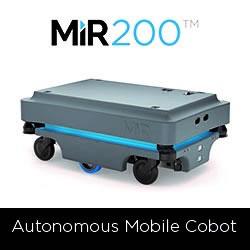 MiR200 is a safe, cost-effective mobile robot that automates your internal transportation. The robot optimizes workflows, freeing staff resources so you can increase productivity and reduce costs. MiR200 safely maneuvers around people and obstacles, through doorways and in and out of lifts. You can download CAD files of the building directly to the robot, or program it with the simple, web-based interface that requires no prior programming experience. With its fast implementation, the robots offers a fast ROI, with payback in as little as a year.